Red Epoxy Buzzer Midge Nymph
When there are midge bloodworm nymph drifting in the river or lake you are fishing then the Red Epoxy Buzzer Midge nymph fly should be one of the fly patterns you choose to tie onto the end of a dropper.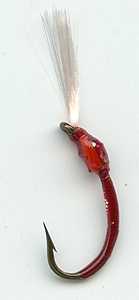 EPOXY BUZZER MIDGE FLY PATTERNS. Hook size 14 12 - $US each
The single buzzers can be fished just bellow the surface by greasing all but the last three inches of the leader. If there is a single ripple, an occasional twitch of the fly line is enough to attract attention. In flat calm conditions it is usually better to fish the buzzer static in the surface film. An alternative tactic is to degrease the leader and allow the buzzer to sink very slowly. Using this technique you should be ready for takes 'on the drop', as a trout seizes the buzzer some distance below the surface. I have had many takes sitting this buzzer 2-4 feet below a dry fly used as an indicator and fished close to weed beds in shallow water. In winter this fly has excelled for me when trout are still taking buzzers as part of their diet.
Whether from boat or bank I try a floating line first thing in the morning. Over night many buzzers will have been on the water overnight and some may have even emerge in the early hours. Opportunist fish will often be close to the shore or river bank feeding high in the water after their surface activity. You will be sight fishing for moving fish as they cruise around the margins. A floating line with a team of epoxy buzzer nymphs imitating the pupae, with maybe a suspender buzzer or Shipman's buzzer on the top dropper. I use a larger heavier epoxy buzzer on the point. The top dropper can entice interest from any surface movement and attract any fish looking upwards. As soon as the fish stop showing in any numbers on the surface, and the buzzers have been plentiful, then the epoxy subsurface patterns come into play. (A 'Dropper' is a length of leader tied to the main leader on which other flies are added.)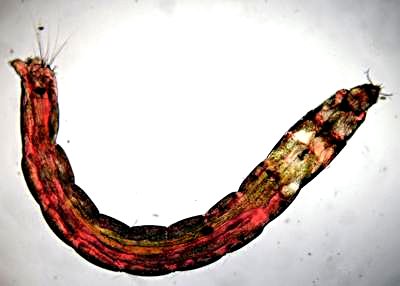 The heavier buzzer on the point helps to get the flies down straight in the water as well as aiding turnover in the cast. I find it helpful to present a cast in a straight line. If the flies land in a heap they can often tangle and rarely fish well. Should this happen, in the breeze for example, then a long pull to straighten the leader can be tried. In deep water I use a floating line and a fast sinking Fluorocarbon type of leader material which is nearly invisible under the water. Sometimes the flies end up under the fish so I fish with a buoyant pattern like a Booby Nymph on the point to suspend the remaining flies higher in the water. I count the nymphs down for about 20 seconds before starting the retrieve. If I hit the bottom I do not immediately pull the line in and recast. If you are fishing more than one fly those still on the dropper are still available to tempt the trout. In these situations I just carry on retrieving slowly. In clear water I use leaders up to 18 foot long with thee flies spread about 6 foot apart. If they are too close together the trout may become suspicious. If you are a beginner I suggest that you start off with a 12 foot leader with one fly on the point and another placed 6ft up from there on a dropper. Some fishermen like to place a brash bright fly as 'disturbance' fly on the top dropper with epoxy buzzers behind. The fish often follow the top dropper but as they get near the boat or river bank see the more natural looking buzzer and reject the attraction of the top fly. If it is really windy just use one fly because the more flies you use the more tangles your risk


Fly Fishing books