Orange Gold Ribbed Hare's Ear Nymph
The Gold Ribbed Hare's Ear is one of the all time great effective classic patterns. It is a 'must have' fly in everyone's fly box. It is not an imitation of a particular insect but a general representation pattern that takes fish again and again and again.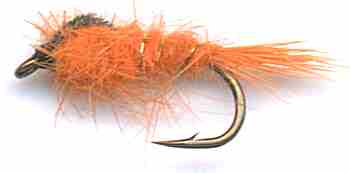 GOLD RIBBED HARE'S EAR FLY PATTERNS. Hook size 10 12 14 16 18 20 - $US each
The Orange Gold Ribbed Hare's Ear Nymph is a suggestive rather than specific imitation of a natural mayfly nymph. I have had success with it throughout the year, but it really comes into its own when insect activity starts to pick up with increased water temperatures. Rainbow and brown trout then become more alert and on the lookout for emerging mayfly nymphs. It is an extremely versatile fly that can be fished effectively in a number of different ways.
I use it as a searching fly to try and find at what depth the trout are feeding. In flat calm conditions I use it at the top, having greased it up to float on the surface. I cast it out and then straighten everything up between hand, rod, rod tip and fly. If there is no movement towards the newly arrived fly I give it an occasional tweak. I have often had brown and rainbow trout then hit my orange GRHE nymph hard from nowhere. The tweak seems to be that magic ingredient that suggests life.
I also use the Orange Gold Ribbed Hare's Ear nymph as a top dropper position late in the evening, using a steady figure of eight retrieve or a slower short pull retrieve. Brown trout seemed to home in on the fly in that location more than Rainbow. I have no idea why. In the summer on bright sunny days I will fish it deep on point just off the bottom. I have had some big trout using this method.
I was reservoir fishing on a day when there was lots of movement near the shoreline. The water surface was full of aquatic snails so most fishermen were casting snail imitations but with little result. I tied an Orange Gold Ribbed Hare's Ear nymph to the point under a floating snail imitation. When a group of trout came near I cast about 10 feet in front of them and started to retrieve using fast jerks across their line of travel. My retrieve was stopped by a hard take of my Orange GRHE nymph not the snail fly. Thinking this may be a fluke I cast again in front of the next shoal of trout to appear. I got another positive hook up. This continued until I reached my limit. Some other fishermen were hooking into a few fish using snail imitations but the orange Gold ribbed hares ear nymph out fished these patterns ever time. Why? I do not know. It just works.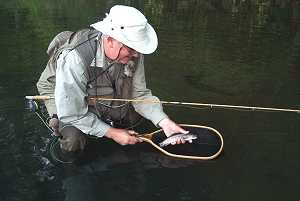 CUSTOMER'S PHOTOS
Here's a great rainbow, two of six that I caught on 30th September in Black Creek, USA. Five of the six were caught on your Bead Head Orange Gold Ribbed Hare's Ear Nymph and the 6th one was caught using one of your Royal Coachman dry flies. Black Earth Creek is in the South Western part of Wisconsin about 20 miles west of Madison, about 150 miles from Chicago's O'Hare airport. On the last day of the inland trout season I went back to Black Earth Creek, my favorite nearby stream. (2 1/2 hour drive) Tried several flies that you sold me, when BINGO! Caught the three biggest rainbow trout that I have ever caught or seen, all of them on your GRHE5 Orange Gold Ribbed hares Ear Nymph Fly. I took a picture of the first and the smallest. I caught a 10 incher on your Royal Coachman Dry Fly. When I was reaching for my little disposable camera, the 2nd big rainbow was in my net (which I kept partly submerged). He broke the fly off the 6X tippet and jumped out of the net. No lie he had to be 16- 17 inch long. From his back bone to his stomach, he had to be at least 4" high.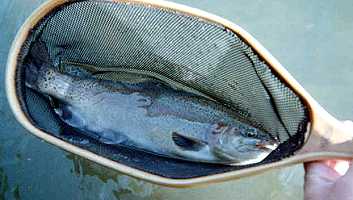 This is very large for our small limestone (chalk stream) streams. A little later I hooked onto another big rainbow and got him within three feet of me when he snapped my tippet and took off. Had at least four others on the hook but could not land them. On of them broke off my 12" 6X tippet when he hit the fly and another just hit the fly and bit it right off the line. I have sent you a few pictures of this old guy fishing on the Kickapoo River. Caught 13 fish on one day and 8 more the next all on your flies. Since I flatten the barbs and practice 'Catch and Release', I also had hooks in, but did not land another 12 - 15 trout, Not bad and lots of fun! Thanks for your quick response and great service/deliveries on my previous orders. Hope all is well with you and continue to have safe and enjoyable fishing trips in the future. Best Personal Regards Bob Olach , Member of Trout Unlimited's Lee Wulff Chapter (State of Illinois)


Fly Fishing books