I like to use a North American black Humpy as an attractor dry fly on the rough and tumbling waters you find in most streams because of its buoyant qualities. It has been catching fish since the 1930's.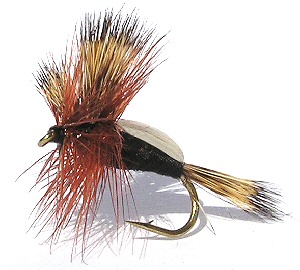 HUMPY DRY FLY PATTERNS. Hook size 12 14 16 - $US each
HOW TO FISH THE BLACK HUMPY ON SMALL STREAMS
On productive small steams that flow into good trout rivers, it pays to fish a comparatively short stretch slowly and carefully, rather than dash from one end of a long stretch to the other end, always hoping for better fishing around the next section. If you do not take it slowly you will just succeed in scaring the living daylights out of every trout in the stream. Not only does it spoil your days fishing but it also affects other fly fishermen in the immediate vicinity.
Fly fishing field craft basics are all-important. How do you get within favorable casting range without spooking the fish? Your plan of approach will dictate your success or failure. Go slow and keep low. Use natural cover like boulders, bushes and trees. Stalk your prey. On your approach to your favorite fishing spot you must still take care and stay away from the stream edge. If you don't you may disturb and frighten some small and unnoticed trout or grayling between you and your target fish. They make good look-outs. It is hugely frustrating to see their bow-waves charging upstream to warn the trout you have set your heart on of your approach.
Rather than walking up the length of the stream use a map to see if you can approach your chosen fishing spot at a right angle. As you get near the spot you keep low and move slowly. Don't wear your favorite brightly coloured Hawaiian shirt. Like most people the trout also do not appreciate your fashion sense. Choose clothing that matches the colors of the natural environment you are fishing in.
Your choice of casting position will be all-important. It should provide cover. Cover behind you, like a large green 6 foot bush, that masks your body shape, can be as important as cover in front of you. Avoid being silhouetted against a skyline. Choose a spot where you can cast without danger of drag. Mark where the sun is. Line shadow also frightens small trout. Keep low when casting. If possible cast kneeling rather than standing and try to cast horizontally rather than vertically. I have even taken the precaution of wearing green gardening padded knee pads when fishing small streams. I like comfort in my old age.
LINKEDIN READER'S COMMENT
I use Humpy's in a big wave or on fast water, on a bright day. Grey Wulff is a favorite on a dark day - By Robert Mehigan
LINKEDIN READER'S COMMENT
Ahh, the Humpy! Wonderful little fly. Have had much success with Sea trout and Atlantics here during the month of July. - By Glen Hobbs


Fly Fishing books