The North American Humpy fly pattern is mainly a fast water attractor with very good floatability and visibility. The origin of the Humpy pattern is in dispute. Some say it is a combination of Jack Horner's Deer Hair pattern and Canada's Tom Thumb. Both patterns were in use on Western North American streams in the late 1930's.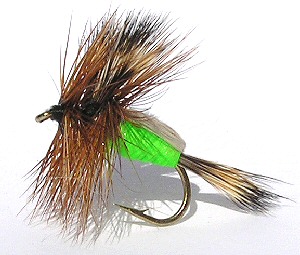 HUMPY DRY FLY PATTERNS. Hook size 12 14 16 - $US each
The Lime Green Humpy Fly Fishing Trick
On a warm but windy summers afternoon, loaded down with my tackle bag, rod and net, I was walking along a footpath that went along the side of a ripening field of wheat. It led to the river bank.
As I approached the water, large numbers of lime green coloured grasshoppers jumped into the air having been disturbed by my approach. There were a number of blue damsel flies zooming between the riverside reeds and bushes.
The hatch guide book for this particular river said that small Blue Winged Olive hatches occurred late afternoon and early evening. I tackled up with a fine tippet and a hook size 18 BWO dry. This turned out to be a mistake.
A 2lb rainbow rose alongside a clump of green weed and I cast my small fly ad of the decreasing rings. It landed gently and floated sedately towards where I thought the fish would be. My leader uncoiled slowly as the fly swung around in the current.
The rise was barely discernible and the take was as gentle as a kiss. I tightened but in as many seconds it takes to blink an eye my leader came back to me without a fly. I said a few rude words and tied on a new fly.
I tried once more. This time a fish of a similar size stayed on for a little longer, but a gain the fight was one way. After a spirited first run, it dived for a weed patch and once more my leader was minus one fly.
I noticed that some of the lime green grasshoppers I had seen earlier were floating in the water surface having mistakenly jumped into the water or having been blown on to the water by a particularly strong gust of wind. They struggled to get out of the surface film but very few drowned. They were quickly gobbled up by hungry trout.
I had forgotten to pack any hopper dry flies for this trip. Having read the guide book I was completely focused on small flies and had packed appropriately. I then remembered I had a small box of rough water flies in the bottom of my bag in case of summer thunderstorms.
I found a green humpy. I put on a heavier leader with a 4lb breaking strain and tied on the humpy. My first fish was a 3lb rainbow. The trout did not seem to mind that the fly was not a perfect imitation of a grasshopper.
They were on the lookout for more big insects thrashing about in the surface. They had already eaten a real grasshopper earlier in the day and were now on the prowl for more yummy food. I continued to catch fish on humpy dry flies for the next two hours. What a great way to spend a summer afternoon.


Fly Fishing books