Claret Heckham Peckham Double Hook Wet Fly
The Heckham Peckham is an unusually named fly, made by Aberdeen fly tier William Murdoch in Scotland. Originally designed for Sea Trout it is open to various variants in its smaller sizes, can be useful for Brown Trout.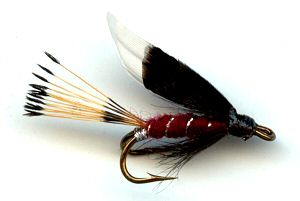 DOUBLE HOOKED TROUT AND SALMON FLIES USED IN THE FJORDS OF NORWAY. Hook size 10 12 14 - $US each
The Heckham Peckham Double Hook Wet Fly is tied in green or claret. The wing in all cases remains the same, the wing feather, from the Mallard drake with the white tip showing. Among Murdoch's other patterns is the Mallard and Claret, whereby the much used Grouse wing is replaced by the longer Bronze Mallard, as the Grouse is a bit short in the web for the larger hook sizes. It's difficult to imagine anything more exciting than wading a river in the dark, casting away for perhaps an hour, and then having the powerhouse take. If your doctor has warned you not to get too excited, then you'd better not go after Sea Trout at night.