Claret Shipman's Buzzer Midge Emerger Fly
In the summer months and during periods of warm weather, fish move closer to the surface to feed. If you are fishing on a lake or reservoir using a rig of three flies on a sinking line your flies will be in the wrong depth.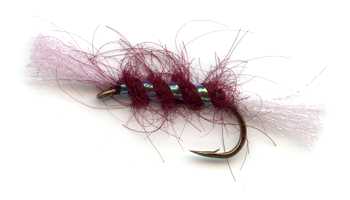 SHIPMAN'S BUZZER (CHIRONOMIDS) MIDGE EMERGER NYMPHS FLY PATTERNS. Hook size 10 12 14 - $US each
You can correct this by adding a booby nymph is your point fly and change your line to one with better floating properties. I have found a better technique is to change the flies you use to ones that sink slowly. The Shipman's Buzzer fly pattern is made to look scruffy on purpose. Unlike the smooth sided epoxy buzzers, pheasant tail nymphs and other fast sinking flies, the fibers that are jutting out from the hook shank of a Shipman's Buzzer helps slow it's decent in the water.
The Shipman's Buzzer fly pattern is also good in other situations, for example, when fishing in shallower water. If you use a fast sinking epoxy buzzer, it would constantly get snagged on the weed beds. The poor sinking qualities of the Shipman's Buzzer fly help it float over the weeds. The addition of reflective tinsel being used for the ribbing helps it become a most successful killer. It reflects the Sun's beams of light and draws it to the attention of nearby lurking predator trout. In these shallow conditions I will fish using a single fly to avoid losing any hooked fish in the weed. In open water I will fish the standard three flies on the floater. I vary the retrieval rates depending on the mood of the fish in that section of water. But even on an almost static retrieve these scruffy hairy flies will remain near the surface where the fish are feeding.
Both rainbows and brown trout are happy to feed at the surface, but you must realise that they both approach it in very different ways. Rainbow trout tend to stay in the upper layers, cruising high in shoals as they search for insects. Sometimes they will stay on the top, sipping every food item they find. Browns, which are solitary, normally hold their position, usually suspended lower in the water. They rely upon their sight to locate each insect and will rise fast to intercept it before sinking deeper again. Takes from Brownies in these circumstances can be strong and very exciting for the flyfishing angler.
There are days when surface fishing is better for rainbows than browns and vice-versa. It is usually in high pressure weather conditions that rainbows feed best at the top. Large numbers of trout released into Stillwater never get caught by anglers. When they are first stocked, they are naïve and will fling themselves at any offering, but once they acclimatise and wise up they ignore the streamers on offer and feed on natural food items. To succeed with hooking these fish you have to imitate those natural food items. When the temperature rises hatches occur on the surface. The scruffy Shipman's buzzer fished on the surface is one of my favourite dry fly patterns. The white tufts help with visibility on the surface. I find the scruffier the fly is the better the trout like them. I believe the fibers imitate the legs of the emerging dun


Fly Fishing books