Most medium to large predator fish inshore or offshore eat squid. It is a popular bait fish throughout the world. We humans eat squid as a delicacy and so do hungry fish.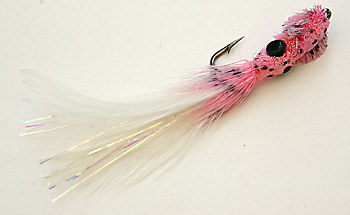 SQUID SALTWATER FLY FISHING FLIES
Hook size 2/0, 4 - $US each
Squid saltwater flies can be used drifted behind a boat but it is best fished using short quick strips with several seconds rest in between strips to mimic a squids natural movement. Squid come in many different colors and sizes. Squid are fast and elusive when trying to avoid being eaten. They can change direction in an instant and can even swim backwards. Some can change color to try and blend in with their surroundings.
They have a defense mechanism that entails squirting an ink bomb in the face of an attacker. Time and time again when I am cleaning fish to make them ready for the cooking pot I have found squid in their stomachs. You can use squid flies for Tarpon, Stripped Bass, Tuna, Black Drum, Ladyfish, Pompano, Redfish, Sheepshead, Shark, Snapper, Snook, Barracuda, Grouper, Yellowtail, Wahoo, Amberjack, Roosterfish, Cabrilla, Pargo, and Dorado.