I made a mistake on my last summer fishing trip. I forgot to pack some red ant fly patterns. That will never happen again as I found out to my cost, trout love them.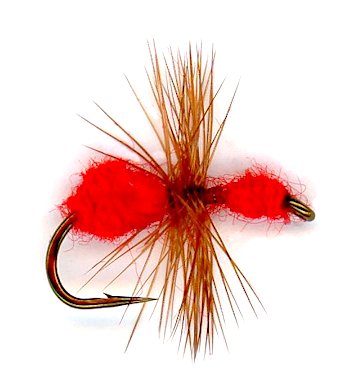 RED ANT DRY FLY PATTERNS. Hook size 18 16 14 12 10 - $US each
My friend and I had been fishing blue winged olive dry flies for two hectic hours but then the takes became fewer and then ceased. We could not, at first, work out what was happening as the trout were still in a feeding frenzy. The wind had picked up and was now blowing onto the river. We changed our dry flies but this had no effect. I then saw a red ant trapped in the surface film near my waders. It was double the size of a natural blue winged olive hatching mayfly and represented a much more substantial meal to the trout. No wonder the fish had had switched to a much more fulfilling food source.
The red ants were being blown onto the water from the bankside vegetation by the wind. It was carrying them about 2 foot away from the river bank. I cursed myself for not being prepared for this eventuality. All I had with some red was a Royal Wulff dry fly. It caught two 9 inch browns but I could have had so much more fun if I had had the correct imitation of a red ant with which to tie onto my line. Oh well you live and learn. I know always have a selection of ant dry flies with me just in case the wind picks up on a summers day again.
LINKEDIN COMMENT
Ants are killer flies. Where I live, mid-to-late summer is ant time. When it's windy they get blown from the pines that line the Henry's Fork (or any other river out West for that matter). They fall from stream-side flora. Trout seem to adore them. I also fish ant patterns in lakes. I've used both red and black ant patterns and the smaller ones seem to work best for me. #16 and #18. Traditionally I have fished them alone. - Jim Ure
LINKEDIN COMMENT
Ant flies are not in my main arsenal but I am never without them when i am on a spring creek of in the Rockies in the late summer and fall. If there is no hatch and you want to fish dries ants can be money. Robert Allen - Production Manager at C.F. Burkheimer Fly Rod Company
LINKEDIN COMMENT
We use the ant flies when we are fishing for arctic grayling on the Thonokied river or the Thanokie narrows at my lodge in the NWT. Use them mostly in the riffles at the start or tail end of faster water. The other area we use them is in the middle of very shallow rapids the grayling go crazy for them. By Kevin McNeil
LINKEDIN COMMENT
I have used ants - red and black. Usually as a single fly... By Len Zickler, FASLA, AICP, LEED AP
LINKEDIN COMMENT
I have used ant many times from Yelllowstone Park, the Bitterrot River, and now on my home waters ..The Blackfoot River! Also consider beetles as both these patterns will turn a fish during August and September, terrestrial season. Hoppers work well, but often overlooked are the ants! On opening day on the Yellowstone River, my catch was immediate and easy with a beetle pattern! Up Pebble Creek, in July I discovered the exciting value of using ants! - By James Savstrom
LINKEDIN COMMENT
In the high cascade/alpine lakes, there is a red ant "hatch"...over the years, I have learned never to leave home without a few of the terrestrials in my arsenal. Black ones can get a strike in spring creeks in the summer months when nothing else is working too :) By Ethan Barrow


Fly Fishing books