Black and Green Bitch Creek Fly
Bitch Creek flies have two thin rubber band legs; two at the tail and two at the head. These distinctive features are tied to provoke the fish to strike as they move when retrieved in short jerks.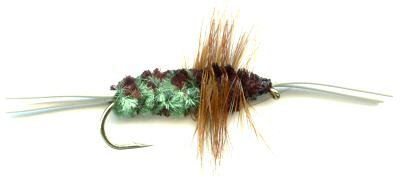 BITCH CREEK FLY PATTERNS. Hook size 10 - $US each
The Bitch Creek is a favorite during heat waves and is usually allowed to sink to a depth of 13 -1 7 ft (4-5m) before the line is manipulated. This pattern originated in Montana, USA I believe in the 1960's. It is great for catching larger fish. It is said to imitate a stone fly nymph, but when you compare it with the natural the resemblance is just not there. This pattern should be classified as an attractor pattern. A very successful one at that. If the fish are not taking your natural imitation patterns, tie on a Bitch Creek. The color, size and the vibrations made by the rubber legs sends false signals to the trout that it is alive and worth eating. On the larger hooks the Black and Green Bitch Creek nymph looks a bit like an olive cased caddis or a damsel nymph. It is the legs that make this fly fishing pattern a killer. When they move in the water it sends out a signal to nearby trout that it is a live and good to eat. I have caught brown trout, rainbow and carp with this fly pattern. I even once caught an Atlantic Salmon on a Bitch Creek. I think the legs waving about in front of its nose and the bright green color must have annoyed it so much that it took a bite.
So how do you fish a Bitch Creek nymph ? You can fish it on its own or in a team of three flies; two to fish under the water tied to a floating dry fly or strike indicator on the top. You want to fish this fly pattern near the bottom. Cast the fly upstream to give it time to sink to the required depth as it nears the area you believe is holding trout. When the river is in spate after a rain storm and the water levels are high, look for back water and side channels where you can your ability to spot fish is better than in the main flow. It is also easier to put the fly near the bottom in slower water. Why does this fly catch fish? I think it is the general buggy feel and look that makes it successful.
So how did this fly get it's name? My best guess is that it was named after the Bitch Creek that runs into the Teton River northwest of Driggs, Idaho. Access to the river is problematic. it is very steep and quite a hike down. The worst is the hike back up the sides of the ravine. It is a right bitch. Which is maybe how it got it's name. As you drive north to Yellowstone National Park locate Bitch Creek on your map and try out a Bitch Creek fly on the clear waters that are home to hatchery and wild rainbow trout, cutthroat trout (cutt-bows), plus brook trout. Grand Teton National Park is ideal for all the family. The scenery is breath taking. Have a look at some of my photos and tourist guide on my other website www.mooretraveltips.com. Stay in the cowboy town of Jackson. It is a fun place to stay and has some great fishing tackle stores where you can get up to date fishing reports.
Fly Fishing books