Diving Green and Yellow Bass Bug
The hair above the head of this Green and Yellow Diving Bugs has been cut at an angle to make the fly dart and dive during the retrieve. It making them fascinating animated prey for the larger fish like the Largemouth and black bass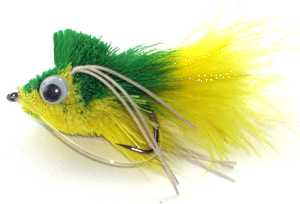 DEERHAIR BASS BUG FLY PATTERNS. Hook size 6 - $US each
Many of the ponds I fish on my trips to North America have colored water, heavily bushed margins and numerous fallen trees. The difficulties involved in fishing in these conditions are more than offset by the average size of the largemouth Bass and Black Bass that dwell in the murky depths. Snag ups are the biggest problem but these can be reduced by constant casting practice to increase your accuracy.
The noise that the green and yellow diving bass bug makes as it thrashes around on the surface grabs the attention of the lurking fish. The right angled cut in the deer hair at the top of this bass bug forces the fly down under the surface on the retrieve. It buoyant so resurfaces and then dives down again on the next strip. It's size and the rubber legs make ripples and splashes. The marabou in the tail moves from side to side on the retrieve helping to give the appearance of natural movement that helps make this bass bug irresistible. The color of green and lighter yellow tummy helps make it appear to represent a swimming kicking frog or an injured bait fish in distress.
I really enjoy fishing these American ponds. The surroundings are attractive and for me exotic. There are not many air plants nestling on the branches of the oak trees that surround my local fishery ponds in the English countryside. On my last visit it was spring and I was surrounded by big violets and heavy cream blooms of the Dogwood trees. American Kingfishers, big grey heron and a pair of beavers add to the appeal. The nightly tree felling activity of these furry lumberjacks provided a constant supply of bass cover along the shoreline.
Bass lairs can be spotted during the day time by the occasional heavy swirl in the water, mostly along the shadier parts of the shore. Black and Largemouth Bass may feed at any hour of the day or night. They are opportunists. That said I have found, like many other fish species, they are more active at dawn and dusk. If you are fishing at night you will find that you get your best results when the moon is at its fullest. No they do not turn into the fish equivalent of a werewolf. They just seem to like the extra illumination to help them hunt their prey.
CUSTOMER'S COMMENT
I love your deerhair bass bugs. This is why I keep buying them. Yes foam and cork poppers last longer but I have a traditionalist attachment to deerhair flies. Why? Well they do have some advantages. They can be cast and landed as loudly or quietly as you want onto the water surface and they are soft in the predatory fish's mouth like their natural food. I remember reading an article by Lefty Kreh when he said that the colour of bass bug poppers is not as important as the way they are cast and fished. Any attention grabbing colour would do and he favoured white yellow and chartreuse. I agree with him 100%, Mitchell Meechan, Kentucky


Bass Bug books