Green and White Popper Bass Bug
The flat head of the deerhair green and white bass bug popper is designed to make a popping sound as it is retrieved through the surface water. This disturbance attracts largemouth and black bass who are waiting in their lairs for their next meal to swim along.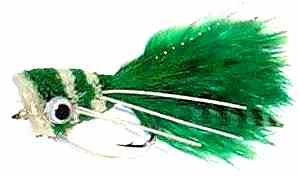 DEERHAIR BASS BUG FLY PATTERNS. Hook size 6 - $US each
The green and white deer hair bass bug popper is a reliable largemouth and black bass catching fly pattern, but it also works in the sea. The perceived idea of saltwater fly fishing for most is the warm water fishing for bonefish, permit and tarpon on the flats and deeper water of the Florida and the Caribbean. To most this is an expensive expedition and can be hit and miss be pending on the prevailing conditions. There may be other options nearer to hand. Coastal areas of Europe that are famous for salmon and sea trout runs can also be home for large bass. One such place is Waterville area of Ireland. It is not uncommon to hook 5lbs bass and they can be found all year around. There are a number of cheap flights that fly into Cork Airport
You will need a minimum of 10-wt rod. This is necessary to cast the slightly bigger than normal flies like the Green and White bass bug popper, cope with the possible wind and also subdue the bigger bass that sometimes can run up to 10lb. Find a rocky spot on the shoreline and look out for the incoming tide. In this part of Ireland it comes in very quickly. Make sure the spot you picked is above the high water line for obvious reasons. Fishing bass bug poppers in the breaking waves and white water, knowing that at any moment a big bass mouth could emerge and devourer my fly is amazing.
When it happens just watch your rod bend hard. They can tear off at great speed and refuse to co-operate. You have to play your bass whilst avoiding the hazards of large rocks and beds of seaweed, that all seem to be placed to help your target fish escape capture. It is always good to obtain local knowledge to get the most out of your trip. Chat to the owner of the local tackle shop to find a guide who is an expert I sea bass fly fishing. Hiring a guide pays dividends especially if your fishing trip vacation time is limited to just a few days. It is so disappointing to go to your chosen destination and not catch any fish. Find out the times of incoming tides by searching on Google or Bing and plan your trip around the best times. Whilst you are fishing keep an eye open for other wildlife, like dolphins and otters. In Ireland there is a closed season for bass from May 15th to June 15th
Using a line tray is a good idea. It stops sharp rocks, barnacles, crabs and seaweed interfering or damaging your fishing line. It makes casting easier and reduces the effect of line drag in the water. Airflo shooting heads makes distance casting easier. The weight less than the spools you would need for full lines and can be interchanged at will plus cover all densities. Missed takes can result from fishing a bass bug popper on a floating line as they can skip and jump in the saltwater turbulence. Use an intermediate line. This ensures the popper sinks below the surface and makes a far better Bass attention grabbing noise as it moves through the water. A bass bug popper imitates a struggling fish that may have been injured having being knocked against a rock by the force of a wave. Check out other places around the world where you can fish for sea bass from the coast line.
CUSTOMER'S COMMENT
Hi Craig, I want to tell you of the success I just had today using your green and white largemouth bass deerhair poppers. I noticed a fish roll in the shadow of a big shoreline tree stump as I walked along the edge of the pond I was fishing. I approached slowly, using the stump for cover, and cast well out. I skated the popper back on the surface of the clear water and as it neared the bank by the stump I paused briefly. Before I could continue with the retrieve the water exploded and the fish surged into the first of several fast runs, throwing itself repeatedly into the air and bringing back to me the unique sensation of being attached to one of North America's most popular gamefish, the black bass. The stump dweller only weighed just over 1lb but it was very strong and active. A few casts later, again with one of your green and white bass bug poppers, I connected with a black bass that was 2 1/2lb but was not as much fun or vigorous to land. Black bass are native to the eastern states of America though they have been exported and farmed in the west. - John Field, Florida, USA

Bass Bug books