Cinnamon Horned Tent-winged Caddis (Sedge) Fly
The Cinnamon Horned Tent-winged Caddis is an ideal pattern to imitate the lighter winged caddis you find hatching around dusk. The rainbow and brown trout feel more secure with the fading light and feed with gusto on the newly hatched caddis floating on the surface film, waiting for their wings to dry before they fly for the first time.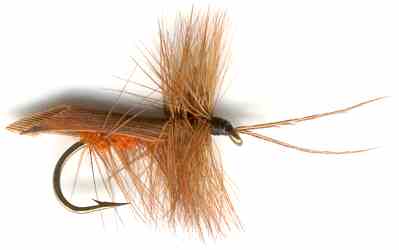 CADDIS FLY PATTERNS. Hook size 10 12 14 - $US each
In June I went boat fishing on my local lake. The main Caddis hatch event is likely to take place much later in the evening, when the smaller, darker and hairier daytime caddis like the grouse-wings and silverhorns are displaced by the larger and often lighter cinnamon coloured nocturnal caddis like the great red sedge and larger Cinnamon Sedge. Local fishing rules only allow one fly to be used so I decided to tie on one of your tent winged horned Cinnamon Caddis dry flies.
It was a good choice. I added some floatant as there was a slight breeze that was causing the surface to ripple. I cast up wind of the hatch and let the breeze drift my fly over the feeding zone. Just before I took in the line I skated the fly in a slow retrieve to produce the V shaped wake that the natural caddis adults produce when they take off. I tried to match the speed of these hatching caddis so my fly looked as natural as possible. It produced some exciting fishing, especially when you could see a bow wave preceding a trout that was chasing my fly.
Cinnamon Horned Tent-winged Upland style of caddis fly has been used for many years in Europe. An American fly tier Bus Buszec re-invented it in the US and called his creation the Kings River Caddis using turkey quills cut in a W shape for wings. This refocused attention on the tent wing fly tying style in America back in the 1990's.

CUSTOMER'S COMMENT
I usually use elk hair in rough and fast water. But this fly pattern that you show reminds me of the quill wing version that I use in slower, gentler waters. Sizes and color vary from water to water. I like to go up and across till it comes to the end, then skate it. Mike Beaver, USA


Fly Fishing books