Yellow Invicta Caddis Sedge Wet Fly
The Yellow Invicta is an old trout fishing fly pattern that has stood the test of time. It was created by James Ogden in 1879 as an imitation of a dark Caddis. He included it in his book 'Ogden on fly tying'. Ogden began his fishing career in Derbyshire in the 1840's.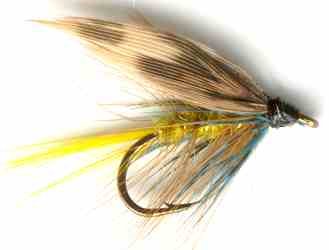 CADDIS WET FLY PATTERNS. Hook size 10 12 14 - $US each
He later came south and set up as a tackle master in Cheltenham, producing top quality innovative equipment. He often fished in Ireland as well as the local chalk streams. The Invicta is a good stillwater fly and also ideal for river fishing in high summer. During the hot summer days when the water level has been low and no trout have been moving I have taken trout by fishing a small invicta just below the surface on a long leader. Fished just below the surface like this the Invicta can imitate a hatching caddis. It usually does well when the caddis hatch is taking place whether in the daytime or at dusk. It also works as a fry imitation. There are two parts of this fly that deserve better study. Since the early 1600 British fly fisherman have been using flies with a palmered body. The palmered hackles move on the retrieve and help suggest life. It is recorded that Shropshire Chef Thomas Barker fished with a fly called 'The Palmer Fly' in the early 17th century. James Ogden was therefore basing his new fly design on old proven style of dressing. He just amended it to make it more of an effective pattern. The original Invicta pattern specified the use of a furnace cock hackle feather blood red with a black center. These game cock feathers were hard to find even in his day and even more so now. Modern alternatives are used and the pattern is still very effective. The second part is Ogden's use of the light blue Jay wing feather The hackle can pose problems for tiers as only one side of the feather was used and this had to be separated or split from the quill, leaving enough of the quill to wind on.
One of my favourite flies when fishing around the Scottish island of Orkney, for wild local Brown trout is the Yellow Invicta, The local Orkney Brownies are heavily spotted and have a flash of gold down there lower sides. They only average around the one pound mark but they are so much fun to fish. What they lack in size, they make up in fight and sheer energy. To me a good days fishing on somewhere like Loch Harray means that I get a rise of over 20 fish to my flies. Now I am not saying that I hook all of these and definitely will not land them all but it is the fun of fishing that counts. The Isles of Orkney are just off the northern most point of Scotland. It has some of the best wild trout fishing in the United Kingdom. It comprises of over 60 islands, some of which are just rocky outcrops. The majority of the best fishing lochs, I feel are situated on the Orkney mainland: Hudland, Stenness, Boardhouse, Swannay and the previously mentioned Loch Harray. I found the bigger fish can be found in the Loch of Swannay.

You are not fishing on the chalk streams of southern England. Up here the weather is very changeable and can be quite ferocious. Make sure you listen to the weather forecast and have the correct equipment and clothing to tackle anything the Scottish weather decides to throw at you. Not only are the Brown trout wild, the weather is wild as well. When I first started fishing in the Orkneys, I found it hard to adjust to the local conditions. This time I'm not talking about the weather. I had never before had so many fish take and then reject fly so quickly. You have to make sure you do not tighten as soon as you see the fish on your fly otherwise you can wave it goodbye. I have found the best place to find fish in these lochs are around the submerged clusters of large rocks that my only a few feet under the surface. The locals call these reefs "skerries". I work my way down each skerry casting and retrieving casting and retrieving from the drifting boat. Suddenly your fly will disappear to be replaced by a deep powerful swirl of water. Most fly fisherman instinctively lift their rods to make hook hold fast, but this wild brown trout of Orkney will have other ideas. It will quickly try to put as much distance between you and itself as possible. They will try every trick in the book to try and rid themselves of the hook. Some will go deep, whilst other trout will do headshaking leaps. You will have a fight on your hands.
Most visitors rent a boat and fish traditional open water style, casting in front of the drifting boat working their way downwind. It is a very effective way to fish as well as being very pleasant. You can put on your waders and fish around the edges but the majority of people choose to go out in a boat. Traditional wet flies like the Yellow Invicta, work very well in hook size 10 or 12.
CUSTOMER'S COMMENT
The glorious Invicta should be this fly's name. It always catches fish me. Its adaptability is its strength. It catches trout on large and small waters. It is used by both boat and bank anglers. I find it works singly or in a team of flies as bob fly. In near darkness last season, I could see fish were their nebs out for hatching caddis some distance out. I cast long and was shocked to find my Invicta taken by what turned out to be an 8 lb carp. It took me 15 minutes to get it in my net. Graham Lightfoot, Birmingham


Fly Fishing books