The Adam's Irresistible Rough Water dry fly
There is a dispute over the origins of this buoyant rough water variation on the famous Adam's Dry Fly. Some say that the Irresistible was created by Joe Messinger of Morgantown, West Virginia whilst others say it was Harry Darbee of Livingston manor, New York.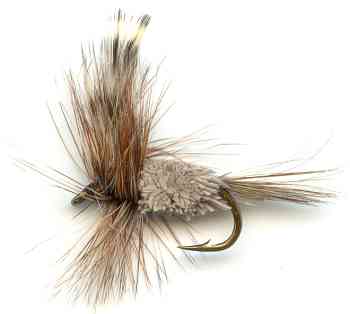 DRY FLY PATTERNS. Hook size 10 12 14 16 18 20 - $US each
One of the most popular North America original dry flies is the Adam's. It can be used in a variety of waters, to imitate food items almost anywhere trout are found. It can be tied in various sizes to represent either mayfly or midge adults. In the early 1920's, fly fishermen on the Boardman River in northern lower Michigan were having problems. The Michigan grayling was gone. Rainbows had been stocked to provide fishing after the demise of the grayling but they were getting scarce and brook trout had been wiped out by over-fishing and habitat destruction. There was a newly stocked European trout that produced some good fishing, but it was creating a few headaches among fly fishermen. They found it so finicky that it was a source of frustration. That new fish was the brown trout. Because anglers and fly tiers were trying to find a fly the brown would take more readily, a new pattern was born.
In 1922, Leonard Hallady created the first Adams dry fly. His home was on the banks of Mayfield pond, Michigan. Charles F. Adams, an attorney in Lorrain, Ohio (later Judge Adams) was fishing the pond. He was an enthusiastic angler who loved to fish for brook and brown trout and was friends with Hallady. Adams was given Halladay's new fly to try out on the Boardman River that evening. When he came back next morning he wanted to know what it was called as it was "knock out." Since Charles Adams had made the first good catch on it Halladay named it the Adam's. The Adam's pattern combines brown and grizzly hackle; many trout anglers claim it is the best fly ever made. Some, in fact, declare that if they had to use only one fly for all of their trout fishing, it would be the Adams. It not only pleased the browns but shortly found wide acclaim across the country and world-wide.
Because of the Adams' success, there have been many, many variations on the original pattern. The Adams parachute is another *must* have in the fly box. It imitates a wide range of mayflies and is arguably the most productive fly one can have tethered to one's tippet. If I don't see an obvious hatch, I'll start with a Royal Wulff. Those white wings are easy to see and it's as good an attractor as any, in my experience. After that, it's the parachute Adams. Usually I use 16, since smaller than that seems to be less effective in the chalk streams I fish. I use a 12 if I'm prospecting in heavier water as it floats better. I use both standard Adams pattern in sizes 14 or16. The standard tie is a good general bug imitation for trout fishing. It can be fished dead drift or moved if needed on the water. The parachute tie has a decent mayfly shape and is a good imitation of darker mayflies on the surface. It seems to bring up even wary native browns as consistently as any pattern I know of. Using an Adams I have also caught Atlantic Char, Cutthroat, Grayling and Rainbow Trout. The combination of grizzle and brown hackles with a medium-grey body has produced a fantastic general dry fly that catches fish around the world again and again in a wide range of water types. This is why the Adams is one of the most popular trout flies in use today even though it was designed in the 1920's


Fly Fishing books