The Black Gnat is not a mayfly. It's Latin name is Bibio Johannis. It is the most common of the terrestrial wind-borne insects encountered by fly fishermen. Both trout and grayling actively take them when they appear trapped in the surface film.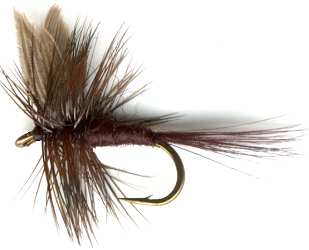 DRY FLY PATTERNS. Hook size 12 14 16 18 20 24 - $US each
Fly fishing anglers also use the term Black Gnat to describe a number of flat winged flies, but the Common Gnat belongs to the Culcidae insect group. It is strange to note that this fly's body is not black at all. The female has a dark olive brown body. The male is darker still and as near black as to make no difference. These flies fall or get blown on to the water and trout are very partial to them. The Black Gnat is a pattern worth trying near the reedy margins of lakes. Gnats are prolific from late Spring till the end of the trout fishing season. They are bred on the land but spend the best part of their lives in the vicinity of ponds, streams and lakes. They may be seen in dense clouds over the water and fish will be rising madly to take their fill. At times like this a gnat pattern fished dry or wet will bring results. There are numerous dressings of the original black gnat pattern. Look for our black gnat parachute fly and wet fly versions
Few fly fishing anglers use dry flies like the Black Gnat on still water lakes and reservoirs. Dry fly fishing is not really given a fair trial. It is normally only tried when traditional nymphs and streamers have failed. A Black Gnat dry fly fished on light tackle can be an extremely effective way of taking stillwater trout. It has given me a number of double figure catches. It is a great fun way to fish. You have to choose a day when the fish are rising and watch the water surface to detect tell-tale signs of fish feeding. The old adage of fine and far off still stands. I like to use a 9-10ft tapered cast with a 2 ½ lb point. I only go heavier if I know the water contains big fish.
A heavy leader is too obvious and results in fewer fish in calm conditions, because it spooks them. If a cast lands heavy then the nearby fish will get alarmed. You must practice casting to produce a feather like landing. Unlike on rivers, where the dry fly is cast upstream of the trout's location and the fly is drifted past it to encourage a take, your floating dry fly remains static and the fish come to it. You just have to cast to an area where trout are rising to hatching mayflies. It is usually a waste of time casting a Black Gnat dry fly to an area where there is no fish activity.
It can be difficult to work out what type of fly the fish are rising to. If you get too close you are in danger of scaring the trout away. You can have a walk around the lee-shore of the lake and examine the drowned insects that have been blown into the water's margins. If this is unsuccessful in providing clues I always start with a Black Gnat dry fly on a size 14 hook or smaller as there are normally some dark flies on the water.
When I am casting my dry fly into an area of activity and allowing it to drift naturally I make sure that my line never goes tight. The drag it would create would warn the fish that something un-natural was happening nearby. You do not want too much slack as you will then find it difficult to set the hook when you raise the rod tip. I always look around where my fly has landed for other rises. If it goes quiet around my fly I cast 5-6 feet in front of the nearest area of water disturbance and wait for my new presentation to be investigated.
A strike suggests a powerful upward sweep of the rod to set the hook. On Stillwater this is not necessary as the fly could be snatched out of the trout's mouth before it had turned down. If by chance you have hooked into a sizable fish it would break the light weight leader. All that is needed to gain a hook hold is a lift of the rod. More fish are lost by tightening too quickly rather than too slowly as lake and reservoir trout usually take in a leisurely manner
CUSTOMER'S COMMENT
Thought that you would like to know, used my new flies (which arrived about a week after placing my order (well done!)) yesterday on a North Canterbury NZ high country lake and got 6 trout, used the Black Wulff, Royal Wulff and Black Gnat, all successfully! Cheers Tim
CUSTOMER'S COMMENT
Fishing a lake in the Sierra Nevadas I was using black gnat dries and when the sun was off the water in the evening (behind the local mountain) the golden trout were hammering them More than once they would hit the fly before it was even on the water. It was just as your write up describes for a reedy edge of a lake (this one was 10,000ft up) Regards Bob Davis
CUSTOMER'S COMMENT
Spring and Autumn dry fly for Brown and Sea trout in Denmark – mainly the streams on the west coast and here the ultimate hits are black gnat 18 to 24. Boris N Valentin, Denmark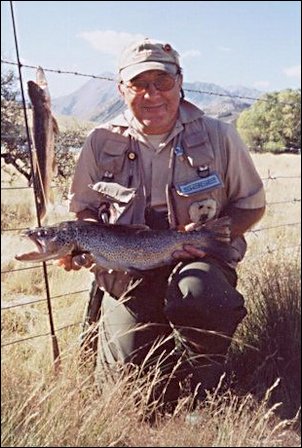 CUSTOMER'S PHOTOS
This is a picture of me a couple or so years ago when I had a very good day in the Coleridge group of lakes in the Canterbury region here in the South Island of NZ. Once again it was your flies that brought success. I think I used a black gnat and an Adams from memory.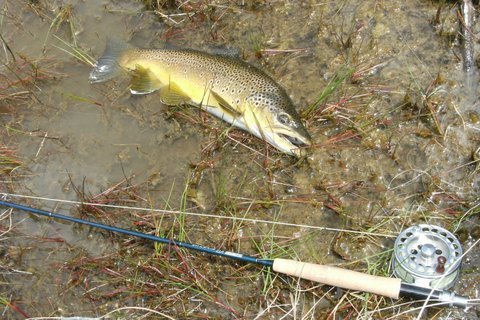 This lake has brown and rainbow trout and is fly only and a good walk in. The fishing is good but if we get the strong north west winds that this part of Canterbury is notorious for then its hard work. This is when your humpies come into play. The photo of the trout by the rod was a brown from a North Canterbury High Country lake, Lake Sarah, which is fly only and contains brown and rainbows. The fly was a black gnat as well. Tim Elms, New Zealand


Fly Fishing books