I still get a great thrill when a rainbow or brown trout takes my surface floating gray hopper dry fly pattern. On a warm summer afternoon one of my favourite pastimes is drag free dead drifting a grasshopper imitation along a grassy-banked river in the hope that a bank hugging hopper hungry trout will viciously take my offering.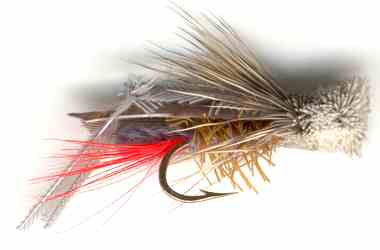 GRASS HOPPER AND CRICKET FLY PATTERNS. Hook size 12 - $US each
If I get no interest I change tactics by simply adding weight to either the leader, by adding shot, or changing the line and leader to one with sinking qualities. I discovered this productive tactic change by accident. I had cast three times to cover a bend in the river that was in the shade from bankside vegetation. The water was clear and I could see fish in that location. They just did not seem to be interested in my floating hopper unlike previous days. I decided to try one more time but I over cast and my fly hit the opposite bank. The hook got snagged in the ground. I kept tugging the line to work it loose when suddenly it snapped free and plopped in the water. It started to drift down stream following the river bank but the hopper fly was floating under the water surface because of the weight of the tuft of grass and earth caught on the hook. Unexpectedly my line went tight and I was into a good sized Cutthroat trout. I took three cutthroat and one brown trout that day using a hopper dry fly fished weighted under the water surface. What a revelation.
Rather than using a beaded wet fly imitation of a hopper I find using the buoyant hopper dry fly patterns fished wet, weighted keeps it at the right level. The natural drowned grasshopper's body does not sink down to the bottom of the river or lake the instant it gets saturated. It stays floating just below the water surface. The beaded wet fly imitations I find go down too deep. Once drowned the body of a grasshopper should swirl and drift in the current rather than plummet to the bottom.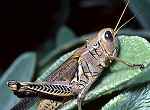 In the early part of the summer grasshoppers munch on the fresh green grass in farmer's fields and wild meadows. As the hot summer progresses the grass turns dry and becomes less nutritious. Many of the grasshoppers actively seek a better food source. This they find near water. River banks become crowded and hoppers falling in, and in some cases jumping into the water, become commonplace. Trout station themselves in locations where they can take advantage of this substantial food source.
Grasshoppers do not swim very well. Their only hope is if they can make it to the shallows and get washed up on a gravel beech. Most die once they end up in the water. If they do not get gobbled up whilst they are still struggling in the surface film they will sink and swirl soggily along in the undercurrent. They are easy prey for rainbow, cutthroat and brown trout. Try fishing a weighted hopper dry fly under a surface floating hopper dry fly. That way you are offering a choice of food; one wet one dry. You are effectively doubling your chances of luring a trout. The floating hopper acts as a strike indicator for the submerged hopper.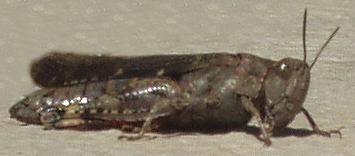 If you are a beginner, who has not quite mastered the art of a soft presentation of fishing flies on the surface, then fishing with hoppers is for you. The natural insects land on the water with a plop and a splash. That disturbance on the water surface is like ringing the dinner bell for the trout. It indicated that their next meal has arrived. You need good sized rod to cast two big flies. I prefer to use a 9 foot, 6 to 7 weight graphite rod, a 9 foot leader tapered to 4X, with a couple of extra feet attached to the floater as a dropper for the drowned hopper fly. I add a split shot to get the dropper down to the right depth.

CUSTOMER'S COMMENT
I just returned from several days in the Berkshire Mountains of Massachusetts. I took several nice brown trout from tributaries of the Housatonic on your gray hoppers. My son-in-law, fishing with me had no strikes until he borrowed a hopper from me. thank you! Tight Lines Fred Laird, Cross Junctions, VA, USA

CUSTOMER'S COMMENT
Craig, Thought you might like to hear that I was fishing earlier today, using one of your #12 grey hoppers, when I hooked and landed a largemouth bass in the 4.5 to 5lb range. Great fly! Tight Lines Fred Laird, Cross Junctions, VA, USA
Fly Fishing books