Yellow French Partridge Mayfly Spinner
The Yellow French Partridge Mayfly Spinner can be used to imitate a Pale Morning Dun. These mayflies molt into spinners within 24 hours of emerging during the dun hatch. You will start to see mating swarms full of Male PMD mayflies appear over the water.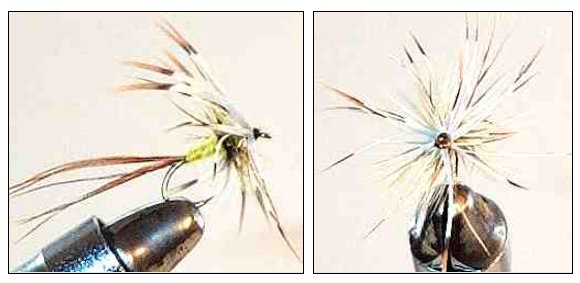 FANWING MAYFLY SPINNER DRY FLY PATTERNS. Hook size 12 16 - $US each
Keep your mouth closed if you get in the middle of one of those swarms. Females will fly into the middle of this frenzy and mate with a couple of the males that catch her eye. The exhausted males fall onto the water as spent spinners. The female PMD's fly back to rest on riverbank vegetation. They wait until their fertilised eggs are mature, before returning to the water. The dip their tail into the water and deposit their eggs. Finally they fall onto the water spent.
There is no specific time for spinner falls. They can occur at any time during the day but are more common on windless mornings or evenings. These short lived adult insects do not rise into the air again once they have fallen spent onto the water surface. They drown and become fish food. Trout do not like working for their food. They are lazy though some would say clever. They seek out locations where there would be a log jam of floating spent spinners, an abundance of easy to get food. These occur at pool run outs. The spent spinners fall down to their death in a scattered pattern over the whole pool surface and gradually all float with the current to where the water leaves the pool. This is normally a narrow channel and during a heavy spent spinner fall not all the floating corpses can exit the pool at the same time. They bang into each other and clog the exit up. This situation is an easy fishing bonanza for hungry trout. I approach these calm water quietly, slowly and stay low as not to spook the waiting trout. I place my cast down gently and allow my Yellow French Partridge mayfly spent spinner fly pattern to slowly drift amongst the real spent spinners to the pool tailout.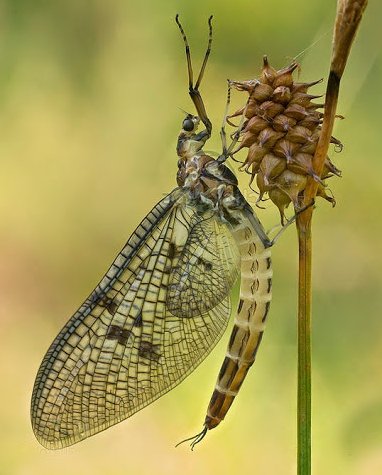 If you are experiencing only a light spent spinner fall then the trout might not rise in their normal pool tailout locations. I check out the local eddies. The swirling water collects and concentrates spent PMD spinners. The trout know this and exploit this addition food providing location. Just drift your fly pattern into an eddy on a slack leader. Watch where it goes all the time.
It is important to keep your leader slack. Allow your fly to do a dead drift. If your line is too tight it will cause your artificial fly pattern to drag. This is disastrous as it causes ripples and a disturbance in the water that will get noticed by your target fish and spook them. Their dead food does not normally start to swim against the current. It is not natural. They do not expect this type of behaviour and their fright and flight instincts kick in
If you are new to a stretch of water when there is a PMD spent spinner fall, try to catch one using a child's fishing net on a long pole or, my favourite, a tropical fish tank fine white net on a long pole. Pale Morning Dun spinners have light wings but their body colour varies from yellow, olive-yellow and brown, depending on the species. The males have larger eyes than the female. They all have three tails. Examine you captured dead spent spinner and try to match the size and body colour with a fly from your tackle box. Carry a few Pale Morning Dun Spent Spinner patterns in different sizes and body colours. As well as the yellow French Partridge Mayfly pattern, parachute and soft hackle fly patterns work well. The latter pattern is particularly good imitating spent spinners that have drowned and started to drift down to the river bottom.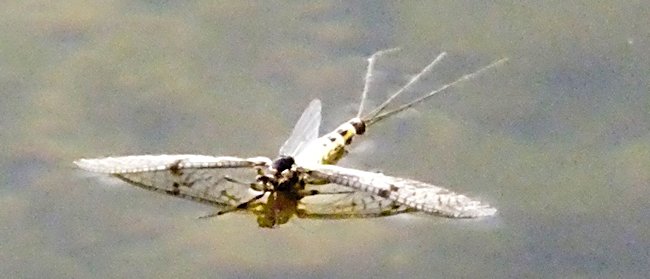 One of my favourite rigs is to fish a yellow French partridge mayfly pattern on the surface but tie a length of 6X tippet onto the bend in the hook and trail a partridge and yellow or partridge and orange soft hackle fly 18 inches behind under the surface. This way I am offering imitation food above and below the surface at the same time. Always keep your rod tip pointed at your surface fly. You must be ready to react and set the hook by raising the rod immediately you see movement. It is important to have some slack on the line as I already mentioned but if there is too