The Y2K Bug Beaded Nymph Fly
The Year 2000 gold bead head bug is a new attractor on the nymphing scene. I was introduced to this fly by members of the Atlanta Fly Fishing Club.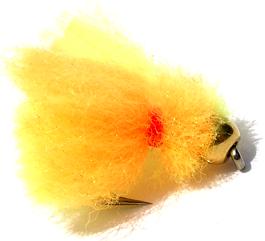 THE Y2K BUG FLY PATTERNS. Hook size 12, 14, 16, 18 - $US each
When the trout are not biting it is the Y2K bug that tempts them to strike. It is very good in colored water after a rain storm as it is more visible than normal nymphs. The beadhead gets it down to the correct depth. I have had great success in the River Lyn in North Devon, South West England, when the river was in spate due to rain storms on Exmoor. The sea trout were taking the opportunity to fight their way up stream with the increased water levels. They just could not pass the Y2K Bug without having a snap at it.
GOLD BEAD HEAD FLIES
The gold colored beads add weight to a fly. After a few hours with a fly rod you understand the necessity for adding weight to small flies. Trout tend to feed on midge larva and nymphs near the streambed. We all know that fish also look for emerging pupae as they float to the surface but consistent angling results rests in getting your flies to where the hungry fish look for their next meal, most of the time and that is near the bottom. To do this you need flies that sink. Because the bead is at the front of the fly it is this section that dives to the river floor first when the line is paused on the retrieve. After casting the fly try retrieve, pause, retrieve, pause. This helps animate the fly and makes them more attractive to the trout. If a sunbeam shines through the water it will reflect off the shinny gold bead head surface and hopefully help in catching the eye of a predatory trout. I prefer gold colored beads as I believe your chances of a fish taking your fly are improved. Some fishermen also suggested that the bead imitates an air bubble. This is a bonus when trying to imitate Caddis ( Sedge) Pupa. Many classic patterns have gold bead head variations.