Copper John Beaded Nymph Fly
The Copper John is a cross between a Pheasant Tail and a Brassie. It has proven it's self to be one of the all-time heavyweights in terms of producing numbers of quality fish.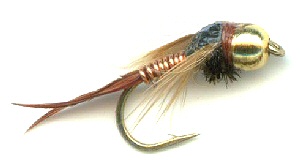 NYMPH FLY PATTERNS. Hook size 12 14 16 18 - $US each
Try fishing it as a dropper below a dry. Some say beads add flash that represents the shiny exoskeleton of an aquatic insect, some believe they resemble the air bubble released by many emerging insects in their final rise to the surface and others argue the off-center weighting of the fly creates a lifelike wiggle throughout the drift. Any way you look at it, beadhead nymphs catch fish, and the added weight up front gets them down quicker than conventional unweighted nymphs.
The Copper John nymph carries a classic mayfly and stonefly profile. A good chironimid imitation ideal for trout fishing. A sleek abdomen reflects light creating the illusion of movement as well as adds weight to the nymph, helping it sink for deeper water. This pattern is great in any river where there are large populations of mayflies and stoneflies. It is one of the younger fly patterns, only recently developed and tied by John Barr.
Customer's Comment
Last week my local river rose two feet and the trout were reluctant to feed close to the surface. My normal go to fly, a brown klinkhammer was no good. I needed to switch to a heavy nymph. I chose your beaded copper John nymph hook size 12, fished on a fast sinking braded leader and floating line. With such fast water the nymphs had to get down very quickly to the calmer water close by the river bed. This is where I suspected the fish were sheltering.
It is not an easy or relaxed way to fly fish, but in a big river there are few alternatives. The line is cast diagonally upstream, and continually mending until the nymph is opposite. The line end should be watched constantly for signs of a take. When the nymph is opposite and drifting downstream, hold the rod high to lift clear of the current. As the nymph continues downstream it lifts in the water column of water and begins to arc. It is this movement that often prompts a violent response from nearby trout. Kevin Hickman
Facebook Reader's Comment
Copper John no 12-14 along with some Pheasant tail nymphs caught 15 Arctic Charr in few hours of fishing Sog Asgardur beat in Iceland - Stefán Kristjánsson, Hafnarfjörður. Iceland
Linkedin Reader's Comment
Here in Colorado I've grown partial to the Copper John pattern in copper, chartreuse or red in sizes 14 - 18 depending on the bug life in the river. - Eric Janzer
Customer's Comment
With the water likely to be its warmest in early September, I find small Stillwater trout can become very lethargic and unwilling to take. When other fly fishermen stick to using marabou-tailed streamers I like to offer the fish this beaded mini-nymph pattern. I fish the beaded Copper John nymph on a light leader with a floating line and if possible cast to individual fish. Due to the gold beadhead the fly sinks quickly, enabling you to drop it to the fish's level with ease. Watch out for the flash of white as the fish opens its mouth. I pause then strike. James Harrington, Bath.


Fly Fishing books