The Adams Parachute Dry Fly
One of the most popular North America original dry flies is the Adams. In the early 1920's, fly fishermen on the Boardman River in northern lower Michigan were having problems. The Michigan grayling was gone.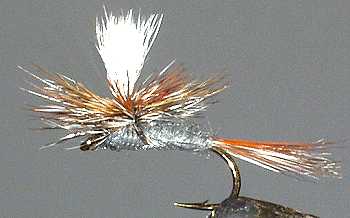 PARACHUTE EMERGER DRY FLIES. Hook size 12 14 16 18 20 24 - $US each
Rainbows had been stocked to provide fishing after the demise of the grayling but they were getting scarce and brook trout had been wiped out by over-fishing and habitat destruction. There was a newly stocked European trout that produced some good fishing, but it was creating a few headaches among fly fishermen. They found it so finicky that it was a source of frustration. That new fish was the brown trout.
Because anglers and fly tiers were trying to find a fly the brown would take more readily, a new pattern was born. In 1922, Leonard Hallady created the first Adams dry fly near his home on the banks of Mayfield pond. He named it in honor of his good friend, Judge Charles F. Adams, another enthusiastic angler who loved to fish for brook and brown trout in the nearby Boardman River. The Adams combines brown and grizzly hackle; many trout anglers claim it is the best fly ever made. Some, in fact, declare that if they had to use only one fly for all of their trout fishing, it would be the Adams. It not only pleased the browns but shortly found wide acclaim across the country and world-wide.
Because of the Adams' success, there have been many, many variations on the original pattern, including an Adam's Irresistible, Adam's midge, Adams Thorax, Golden Adams, Swedish Adams, Down Wing Adams, Poly Adams, Lady Adams, Teal Wing Adams, Blue-wing Adams, Western Adams, and more. The original has also been tied spent-wing style. We stock the Parachute Adams because of comments like this from our customers: "Adams parachute is a "must" have in the fly box here in the mountains of Northern Carolina, USA. It imitates a wide range of mayflies and is arguably the most productive fly one can have tethered to one's tippet. If I don't see an obvious hatch, I'll start with a Royal Wulff. Those white wings are easy to see and it's as good an attractor as any, in my experience. After that, it's the parachute Adams. I usually fish the parachute style with a body dubbed a bit rougher than classic - not as much as a Hare's Ear nymph, but toward that direction. Usually I use 16, since smaller than that seems to be less effective in the mostly pocket water, freestone streams I fish. I use a 12 if I'm prospecting in heavier water as it floats better".:"I use both standard Adams pattern in sizes 14 or16. The standard tie is a good general bug imitation for trout fishing. It can be fished dead drift or moved if needed on the water. The parachute tie has a decent mayfly shape and is a good imitation of darker mayflies on the surface. It seems to bring up even wary native browns as consistently as any pattern I know of."
My fly fishing friends had texted me that the Grannom hatch was on. I was an unusually warm April. I took a day off work and packed my fishing kit in the boot of my car in anticipation of the first good day's warm weather fishing of the year. It normally only lasts a week. In the sheltered part of the river I was fishing a large number of Grannom were coming the water. I cast an Adam's Parachute size 14 and let it drag free dead drift over the feeding zone. The trout mistook it as a natural hatching insect on the surface film and paid for their mistake. I averaged three good sized brown trout in the first three hours.
As it got to midday and the sun beat down it went quiet. I had a nap and then a cheeky pint down the pub and a ploughman's cheese chunky bread and pickles lunch. I returned in the afternoon to be greeted with the sight of a virtual blizzard of emerging Grannom coming off the water and swarming in clouds looking for a mate. Some were already falling spent back onto the water surface. Luckily I had bought with me a good stock of Adam's parachutes. I started off with the smaller ones but as the evening continued and there were more spent bodies floating on the surface I increased the size of fly I was using. This time my hourly average went up to four fish.
The trout are expecting to see their food floating on the water surface moving with the water current. They do not expect to see it suddenly gain unnatural powers and start swimming against the flow. This would look un-natural and spook them. It is so important to cast ups stream of your target fish and let your fly drift down stream drag free. Always watch your line to see that there is enough slack but do not have so much slack that when you want to set the hook you cannot tighten the line quickly. It is a skill you learn with time.
CUSTOMER'S COMMENT
Three of us caught a significant number of 18" - 27" beautiful native rainbows on your Parachute Adams hook size 16 & 18 on a private ranch stream near Mt. Lassen, California this past week (mid June). The fly is and has been a consistent producer in numerous situations. - Semper Fi, Dr Richard Curtis, CA, USA
LINKEDIN READER'S COMMENT
I love flyfishing for carp! There are many good reservoirs in the Salt Lake City area and I've even caught them in the Jordan River as it runs through the city. My own best results have been at Willard Bay, where I've caught them on dry flies (size 18-20 Parachute Adams) when they're cruising the surface sucking in cottonwood seeds and on several versions of smallish (10 or 12) weighted nymphs when they're tailing and rolling in muddy shallows. With the dries, I actually caught them on a 5-weight with a long 5x tippet. Some would break off, but most of those reservoirs are fairly open so you can play them awhile. For the nymphing (which is more like streamer fishing or even like bonefish casting), I would usually use a 6wt with 2x or 3x leaders. Now that I live in Jackson Hole, Wyoming, my access to good carp fishing is severely limited and I miss that. All I get to fish for around here is trout. (Just kidding.) - By Bob Peters
LINKEDIN READER'S COMMENT
LINKEDIN COMMENT Here in Colorado for dries hook size 18-20 Parachute Adams (a great all around mayfly imitation, excellent for "prospecting" new waters. - Eric Janzer
Fly Fishing books