The Beaded Hackled Pheasant Tail Nymph Fly
The Beaded Hackled Pheasant Tail Nymph Fly pattern is widly used for trout fishing as a point fly. I will show you how to fish this pattern.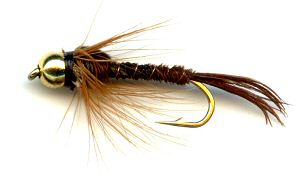 PHEASANT TAIL FLY PATTERNS. Hook size 12 14 16 18 - $US each
How to fly fish with a Frank Sawyer Pheasant Tail Nymph
The natural Chironomid buzzer or midge suspended from the water surface filmThe increase on day length and warmer temperatures in April increase insect activity. This is good news for the fly fisherman who likes to use imitative fly patterns. During this early part of the season buzzer nymphs or chironomids to give them their proper name, are the main thing on most trout menus. They are the main food source found in their stomachs in the either the larval or pupal form.
Where you fish at this time of the year can be vital as the trout normally pack together near their favourite location. It is important to ask locals or the fishery staff where the best holding locations can be found if you are new to a lake or reservoir, particularly on the bigger waters.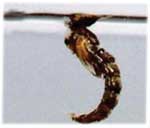 Once you have located the fish it is then time to work out what depth the fish are feeding in. Once you work that out you must try to hold that depth as long as you can using a slow retrieve. Even when trout are preoccupied with feeding on daphnia in the early part of the season you can still provoke some good takes with some carefully chosen nymphs fished correctly.
In the colder water temperatures that are common in the early months of the year trout do not dash around chasing food. It takes too much energy. They just amble through zooplankton taking in food. You must therefore drift your flies as slowly as possible and aim to allow the target trout time to slowly swim onto the nymph without expending too much effort. The depth and speed of the retrieve are possibly more important that the type of fly at this time of the year.
I use clear 6-7lb leaders for sub surface fishing from a floating line over water 8 to 12 feet deep, with a distance of four feet from the point fly to the first dropper. The distance from the top dropper to the leader butt is about 10 feet. I tie on a leaded or heavy long shank hook size 10 pheasant tail or Gold Ribbed Hares Ear nymph at the point. Provided I am not forced to fish across strong winds these point flies will get my team down to depths of 8-10 feet.
When fishing shallower waters where the trout tend to hold higher up in the water column, I fish one dropper rather than two. I normally place it about five feet above the unleaded point fly. I like to use a fly which has a tail suggests life and has movement like a black woolly bugger or a damsel nymph. I know some of you will be thinking, why is he not using another nymph, but remember at this time of year there are not too many hatches happening. There are leeches, tadpoles, small bait fish that overwintered and predatory dragon or damsel fly nymphs on the prowl. I am always surprised at how high in the water some trout hold in the colder months in shallower waters.
If your team of flies are fishing below the holding position of your target trout they are ineffective. The trout will not see them. If you are getting no response from the try using a smaller or unweighted point fly to raise them up in the water depth. I always go deeper first and then gradually fish higher up if I get no response

Fly Fishing books