The Polar Shrimp Single Hook Fly
This classic steelhead attractor pattern started with white polar bear hair. Now modern materials are used. It imitates salmon eggs and shrimps. Some shrimps turn a brighter color during their summer mating seasons.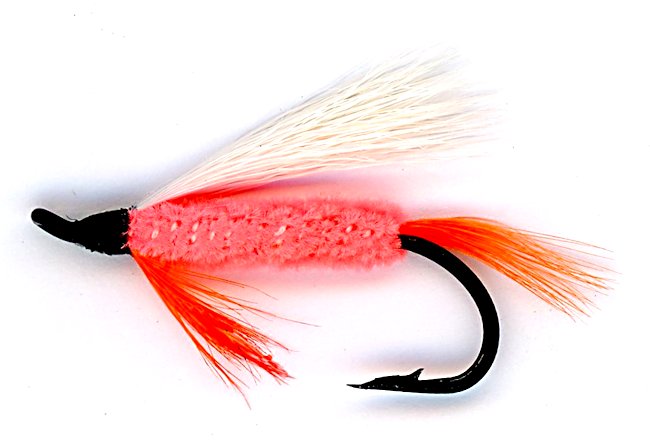 TROUT AND STEELHEAD SINGLE HOOK FLY PATTERNS. Hook size 6 8 - $US each
Shrimps swim in energetic burst, surging up from the river bed and diving back down just as quick. This type of 'sink and draw' is easy to reproduce when you fish with a weighted shrimp on a floating line. Cast the fly and let it sink until you think it is at, or near, the bed of the river or lake. As you retrieve the line the shrimp fly will rise up towards the surface. Stop and the shrimp will dive back down to the bottom. A shrimp fished with six inch pulls followed by two second pauses can be very tantalizing to a trout. If you should fail to get results try longer pulls at greater intervals.
The Polar Shrimp is also used to imitate clumps of orange salmon eggs. The white wing does a passing representation of male salmon sperm that clings to the egg to fertilize it. These eggs provide an easy feast for lurking Trout and steelheads.