Pink Salmon Egg Fishing Fly
Pink Salmon Egg flys known as Glo-Bugs were developed and marketed by the Bug Shop in Anderson, California, and are unquestionably among the most deadly patterns ever used for rainbow trout, steelhead, and salmon in Alaska.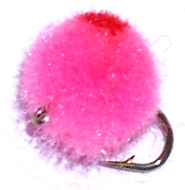 SALMON GLO BUG EGGS FOR STEELHEAD AND TROUT. Hook size 6 10 14 - $US each
The standard Glo-Bug salmon Egg Fly is available in many color variations, any of which may be effective at particular time or place. When wet, the yarn takes on a translucent appearance and feel which greatly increases its attractiveness to fish. During the steelhead runs of early spring you are almost guaranteed to see fisherman out drifting spawn sacs and single egg patterns to pooled-up fish. Presenting egg flies to steelhead that have ventured up into the rivers can provide a very exciting day of fishing. The basic egg pattern is a versatile producer for many different species of fish all over the world. Rainbow trout, brown trout, brook trout, arctic char, dolly varden and steelhead are just a few of the species that can be taken with egg patterns when spawning fish are present. Eggs, which get washed out of spawning beds, represent a crucial food source for many fish. They contain many of the basic nutrients for sustaining life, such as high amounts of protein and carbohydrates that will help to fatten fish quickly.
Real eggs and egg flies can be found at almost any fishing store during the appropriate spawning periods. But there are some considerations that fisherman should take into account before heading out to the store. First off, when fishing for steelhead or salmon with eggs or egg flies, you should expect to lose large number of flies or eggs due to snagging up on the river bottom or foul-hooking fish. Often the best presentation requires getting your fly or egg right in the thick of things meaning bouncing off the bottom all the way down the river. Another consideration to make is that real eggs will not stay perched on hooks for that long especially in turbulent waters. Also the eggs that do stay on your hook will lose their color and need to be replaced every so often. With these things in mind really there is only one true choice to make and that is: to tie your own egg patterns. By tying your own flies you will never have to worry about the color fading or the eggs loosening from the hook, plus it might just save you a few dollars.
Another nice thing about tying your own egg patterns is that you can create flies to match almost any egg pattern that you may come across on the river. Egg flies can be tied in all different shades of orange and pink and usually include a dot of offsetting color to imitate the oil drop that occurs in natural eggs. It is a good idea to carry egg patterns in an off-white or cream color. When the natural eggs are laid, some do not get fertilized during the spawning procedure and become a murky whitish color. These dead eggs sometimes can save the day when fish become extremely finicky. Finally, it is good to carry patterns that range from single eggs to egg clusters. When fishing murky water I have found that using an egg cluster pattern works better than single eggs. In turn when you are fishing clearer waters I have found using single or double egg patterns will produce the best results.
LINKEDIN READER'S COMMENT
As bass and panfish start spawning in next few months, you'll see carp cruising the beds. Drop a small, unweighted egg pattern well in front of one--the longer and lighter the leader, the better--and see what happens. - By Seth Norman