BF6. The Pink Mini Puff Bonefish Saltwater Fly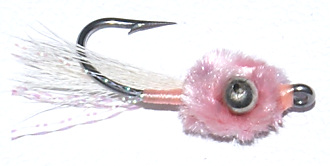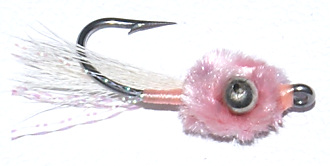 INVERTED HOOK PATTERNS. Hook size 6 & 4 - $US each
The Mini puff is a long time favorite fly used all over the world. It is great for spooky shallow water bonefish tailers! It was first tied by Capt. Neil Bohannon in the 70's and is still one of the best for shallow flats and nervous fish. It is lightly dressed for a soft presentation in skinny water. It lands like a feather, sinks slowly. The perfect skinny water fly.
This fly is an inverted hook pattern. It is designed so that the hook rides above the shank in the water. The idea is that the hook does not get caught on the bottom. By adding a relatively stiff wing material near the hook eye which covers the hook point, the fly becomes nearly weedless. If tied with sparse materials these flies can be made to sink very fast. This fly will bounce up and down on the retrieve and makes puffy little clouds on the bottom that sends out visible signals to nearby fish who interpret it as, 'there is something moving down there that maybe good to eat. In nature if you can be seen your dead. Most prey species of the bonefish are very well camouflaged. Your fly must not mimic nature to well for if it cannot be seen you will not catch fish.
Because the Mini Puff fly rides hook up it consequently does not gill hook many fish unlike the conventional hook down fly. Although the fly was not designed with this feature in mind it has increased the amount of fish that can be caught and released. In nature if you can be seen your dead.







Subtle colored flies work best on sunny, bright days in shallow water. Bright colored flies work best on cloudy days in deeper water or at sunset. Bonefish patterns should match the color of the bottom in the area you are fishing: light colored flies on light sandy bottoms and dark colored flies on dark turtle grass/coral bottoms. Flies that hit the water with little impact are more effective than those that strike heavy and spook the fish.
Bonefish know that if they reach the crest of a flat on an incoming tide they will find the best food waiting for them. Look at your tide tables and find the crest. Sometimes schools of Bonefish will rush towards there as the tide turns and starts to flood. Getting a take is all about placement and delivery in front of your target.. Sometimes it does not matter if your fly is tan or orange. On my last trip my guide spotted a single Bonefish grubbing in the mud about 50 feet from the boat in perhaps 18 inches of water. I managed to get a perfect cast to it, started retrieving and felt the line tighten as the the fish took. The normal advice at this point is to keep retrieving, not strike, as the the fish will generally hook itself. it worked. For a couple of seconds the fish jut shook it's head, not knowing what had happened to it. then it took of in a flash. these fish are really fast. In seconds all the fly line and half the backing had gone from the reel. I eventually landed a nice 6lb bonefish.
With a slow moving fish I have been able to get a a bite by casting behind the tail (admittedly the first time I did this was by mistake and a short cast). I noticed the fish visible change directions as it heard the plop of the fly. It must have thought that some thing was alive behind it and trying to escape. It wheeled around and went to investigate. It saw the puffs of sand as I retrieved and it attacked. It does not always work but is a good last resort option that has claimed a number of bonefish.







One little tip is to keep your hands clean. Bonefish have a powerful sense of smell. They can smell crabs and shrimps they cannot see. They can also smell, insect repellant, beer, sunblock, gasoline and aftershave. I wasted a whole days fishing. I was using a lot of sunblock because I did not want to get sunburnt as I had very white English skin that had not seen the sun for five months. I was getting frustrated an being the only one not catching fish when my guide pointed out my error. After I thoroughly cleaned my flies my luck changed.
Bonefish very rarely take with a 'bang'. They catch up with the fly and suck it in. All you normally feel is a change in tension on the line as you strip. That is the only indication you get that the bonefish has taken your fly. Beginners tend to strike with the rod, lifting it as you might lift into a trout taking a dry fly. What you should do is the moment you feel the fly being sucked in by the fish, you keep stripping hard. You will find that the line will tighten, at which point strip/strike the line with the rod tip still pointing at the fish, only lifting the rod when your sure the hook is home. That is when the Bonefish will take off. You better be ready for the fight and hold on tight to your rod. These fish pack a punch.. On my first Bonefish trip I made the mistake of using a fly rod that reflected the sun. It spooked the fish again and again. I now use a dark matt carbon rod with no shiny parts. Fish that are very prone to aerial predator attack get very spooky.
Recent studies have found that although bonefish and permit come to the flats to feed and appear to swim to deeper water when spooked by anglers the main reason they prefer the flats is safety. Barracudas and sharks are their main predators. The water over the flats is just too shallow for these larger hungry water dwellers. Bonefish and permit can therefore feed in relative safety on shrimp and crabs
PRACTICE MAKES PERFECT – Casting on the flats
"Bonefish 40 feet 3 o'clock moving left". If you have been saltwater flats bonefish and permit fishing and have had problems getting the fly in front of a moving fish that has been pointed out by your guide, read on. The guide has done his job by finding you the elusive fish from his elevated position and punted you within casting distance. Now all you have to do is land your fly in front of its face quickly without spooking these very jumpy fish. You have to get your casting skill to a level where you can deliver the fly using two false casts or better still a single. Find an old plank and put it on top of a small log. Balance on the plank to mimic casting on a boat. Get a friend to roll a trash can lid, large plastic plate, or hoop in front of you and try to hit it. If you do this in your front yard or local park you may get some funny looks but your skill level will increase so you do not waste the time you spend on the water. Last time I did this in a park I had people come up to me and ask if they could have a go as it looked like a lot of fun.
CUSTOMERS COMMENT – South Andros Island, Bahamas
I've just got back for a great trip to the Bahamas. Your pink mini puffs and white gotchas were all the flies I needed. On the first day I saw a school of five bonefish moving towards me and managed to softly drop a pink mini puff in front of them. It only took a couple of short strips and bang my first bone of the week. I kept looking and scanning for more moving shadows in the water. An hour later I see another school of 8 bonefish coming onto the flats from a deep channel. I target the lead fish with a white gotcha a few feet from his nose. He follows inspects and then takes. What a morning. Later in the week I got greedy. I saw the biggest bonefish I had ever seen. It would not take any fly I offered. My guide told me not to waist my time on him and look for younger fish. He has become old and large because from experience he has learnt not to take flies. He has learnt from painful experience.
CUSTOMERS COMMENT – Looking for bonefish
The Crazy Charlie's worked great. I just want to pass on a tip my guide gave me that worked. When looking for target fish on the flats DON'T look for fish, look for changes in the color of the water. Look for flashes, shadows or movement. Do not look at the water surface look into the water. Try to stand with your back to the wind and sun. The colour of the sea bottom affects the colour of the fish. Their silver sides act like mirrors therefore if it is yellow sand they will appear yellow rather than silver.
CUSTOMER'S COMMENT - FLY FISHING IN LOS ANGELES !!!
In Southern California we are trout deprived so I like to go surf fishing to get some real all year round fly-fishing action on Hermosa Beach near Manhattan Beach Pier, 17 miles south west of Los Angeles. Barred surf perch is my favorite fish but there is a fine variety of saltwater fishing in the surf zone on this excellent sandy beach. If you are a tourist visiting LA or come here on Business pack your rod and head for the beach. I use a 9 weight rod and a saltwater rated reel with a fast sinking 300 grain integrated shooting head with an intermediate sinking running portion to get the fly on to the bottom where you will find the feeding fish. They are looking for worms, shrimps and small fry bait fish. Crazy Charlies, Gotcha, Mini puffs, and Clouser's Minnows in size 6 work great. Time your cast to just hit the sea beyond an incoming wave. Wait for the fly to sink to the bottom before starting the retrieve. Vary your retrieve speed. Do not stick in the same spot unless it is generating fish. Pick a location that is calmer than other areas where there are no breaking waves. This normally means there is a hole or trough below the water and this will be a feeding / holding location for your target fish.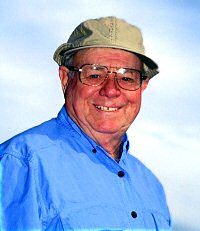 LEFTY'S KREH & FLY FISHING FOR BONEFISH
Lefty Kreh, the internationally know author and respected fly fisherman from Maryland, is famous for developing in the late 1950's the modern classic Lefty's Deciever saltwater streamer and his collusion with Bob Clouser on making the Clouser's Minnow . Lefty started his fly fishing addiction in 1947 when fishing guide Joe brooks introduced him to the delights of a fly rod and reel whilst fishing on the Potomic River above Washington DC, USA. When flying ants were falling on the water through exhaustion as they tried to cross the large expanse of water and failed,. Bob would cast to the little rings that appeared on the water surface and catch the rising trout. He did that about eight times. Lefty was amazed. The next day Lefty drove back to Bob's home in Baltimore, Maryland and purchased his first set of fly fishing tackle. Bob gave Lefty his first 9 o'clock to 1 o'clock casting lesson. Lefty carried on practicing and started reading up on his new hobby. Jock Scott's Guide to fly fishing was an early favourite read. It was Bob Brooks who introduced Lefty to saltwater fly fishing in 1964 by getting him a job in Miami working for Orvis. He got to met all the local guides and learn from them. He later started to act as a guide and also demonstrate casting techniques, provide fishing lessons and give talks to various groups around the world.
When asked where his favourite to go fishing was he named Los Rochas in Costa Rica, 90 miles off the North Coast as it has the best quality bonefish that he has experienced in his wide and varied career. Although known for his Lefty's Deceiver fly pattern his favourite saltwater fish is the bonefish. They are a challenge and require skill to fish successfully. Lefty likes the fact that they are a nervous fish that get spooked easily. He uses light tackle and a 7 or 8 weight rod. He has always liked sight fishing on the flats from a boat. When he first fished for bonefish he would cast for about thirty fish before getting a bite now he gets upset if he does not get one in three casts. This improvement in performance is down to patients and learning the correct way to deliver and fish a bonefish fly. Lefty advises to select a bonefish fly that should try and match the colour of the sea bottom in the area to intend to fish. If you are going to fish light coloured flat such as those in the Bahamas or Christmas Islands a white, yellow or light tan fly is the one to choose. If you fish near turtle grass flats then select a dark tan, brown or olive bonefish fly. For Bonefish trips Lefty recommends: the Mini Puff fly for its soft landing ability; the Gotcha as an absolute must for anyone fishing light coloured flats like those in the Bahamas and is one of his must have bonefish flies; the Horror for spooky bonefish; the tan and white Clouser's minnow and the pink & white Clouser's Minnow.
PERMIT
If you are out fishing for bonefish and see a Permit do not panic if you forgot to pack some crab flies. Permit will feed on shrimp if they are easy to catch. Shrimp flies, like the Mini Puff, have to be fished right on the bottom but mid depth can bring results. One good head shot is worth twenty side casts when fishing shrimp flies to permit.
WHERE TO FIND PERMIT
I have found the best location for catching permit is in the Ascension Bay area of the Yucatan Peninsula. There are some large ones but most are smaller. If it is your first time trying to catch permit this would be the place I would recommend. For good chances at large permit around the 20 pound mark then try Belize. For a chance of big permit of 25 pounds and over then go to the Florida Keys from the southern end of Biscayne bay all the way down to Key West
BONEFISH MUD
When out fishing for bonefish look for 'Bonefish Mud'. What am I talking about? Sand and silt is kicked up into suspension when a group of bonefish root along the bottom searching out food. They 'color' the water along the area of the beach. The water looks all cloudy. 'Bonefish mud' is a great indicator of activity and an easy way of locating Bonefish. Cast your fly into this location.
STING RAY TIP
When ever you see a ray swimming near by it is always worth casting just behind it. Even if you cannot see any following bonefish they will follow in its wake. The movement of the Rays wings as they glide over the surface disturb the sea bed and dislodges shrimps and crabs. The bonefish love an easy meal.







To be sent regular fly fishing information and news on special offers click the British Royal Mail Post box

You can e-mail us at fly.fishing@blueyonder.co.uk
The English Fly Fishing Shop, Estate and Country Sports Equipment Ltd,
5 Woodland Way, Morden, Surrey SM4 4DS, England (Established 1978)