The Munro Killer Double Hook Salmon Fly
The Munro Killer is in a strong position of winning the title Best Scottish Salmon Fly. It is regarded as a good summer and late season pattern, but I have had good results in the spring.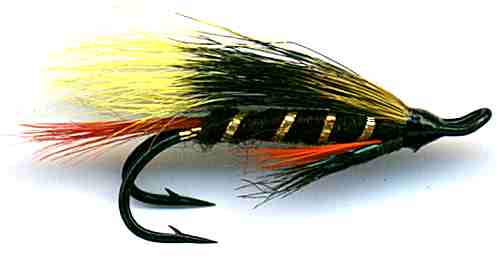 SALMON DOUBLE HOOK FLY PATTERNS. Hook size 4 6 8 10 - $US each
The Munro Killer is a great Salmon fly pattern which many would regard as indispensable. It is a modern variation on the traditional Thunder and Lightning used all over the world. I have had great success with a Munro Killer when fishing for Salmon in Canada, Scotland and in Sweden. Bait fish have to move quickly in order to survive and your fly must do the same. Ensure you maintain your retrieve until you feel your line stop Salmon do not slam into the fly like trout or bass usually do. With Coho especially you will sometimes see a wake following your fly. Although it is exciting and can be unnerving it is important that you keep the fly moving. Do not be tempted to slow up and let the Salmon catch up. This is unnatural behavior for a bait fish and may spook your target fish into rejecting your fly. I have found Dead-drifting around the edges of swirling eddies also brings takes with this fly.
Fishing for Salmon on the Doon River
In the hills of Galloway on Scotland's West Coast you will find the Doon River. I was lucky to be fishing a stretch of this fine salmon river just north of the charming village of Dalrymple. I had chosen to use a single handed rod as water conditions were low.
It was my first time fishing this beat. A new stretch of water always presents a challenge and the Doon was no exception. I fished carefully through, trying to read each pool and run as I approached. Where would the fish be lying? Where would one take? Were any fish there in the first place? These little questions always go through our minds, but they are all part of the pursuit of salmon.
I have always had a hunting instinct and love to explore every nook and cranny in a pool, searching behind every rock in the hope of feeling that heart-stopping pull as a fish takes. Unusually I had no joy with my trusted Ally's Shrimp fly so I changed to another old favourite a Munro Killer on a hook size 10 and changed location.
The water on the lower beat was faster with many pots and runs to fish. I immediately pulled a 2lb salmon from a small pool called Scoot Hole. As I worked my way downstream the river suddenly divided around large wooded island. Fast stream ran down my side of the island, broken here and there by large boulders. It was not exactly a pool, but just the place for fish to stop for a breather.
The Munro Killer fly doesn't have very long to fish in this type of water. It is essential to try to hang it in every likely looking fish lie. One large rock on the far side had a super little lie which looked promising.
My cast was accurate and my little fly plopped in just below the rock. Within seconds it was grabbed viciously and my reel screamed as the salmon suddenly took to the air. What a fantastic take. Now my problems really began, for this was fast and heavy water with little room in which to play the salmon out.
I held on hard as it tried to make a dash downstream and then threw itself into the air once more. It was a lovely looking bright fish and I prayed that the hook would hold. I was in luck the local water bailiff was doing his rounds and had seen me from the far bank. He crossed the river with the large fishing net, he normally kept on his back, held out in his right hand.
I was delighted to see him because I could not see where I was going to land this fish. It was still using all its strength in the fast white water in efforts to gain its freedom. However in a few minutes I had it close in having been netted by my new friend. It was a cracking salmon just under 7lbs not long from the sea.
Atlantic Salmon Spey Line Colour
A question was asked on a LinkedIn fishing group about what is the best color fishing line to use when you are trying to catch salmon. Here are some of the interesting varied replies
• It may have more to do with the fisherman's eye site. I pick a color I can see. Presentation, fly selection, leader /tippet size matter more than the color of the fly line. I only have experience and no research to back this up. - David Gallipoli
• Lighter/brighter colors certainly heliograph more when working as a ghillie I certainly noticed the effect so am sure the fish did. (you know beat full of fish in low water, all fish retreat to deep holes by mid week) FWIW I would by moss green or grey head and dull red running line. - Tony King - TKFishing Instructor
• I use a light blue line for my saltwater outfit and a moss green/grey for my freshwater outfit. - Stuart Worthington
• You need the line to contrast against the mirror of the river bed and banks that fish see. The window of sky that fish see is in the majority, smaller than the darker tones of the mirror. There is not one solution and many people say they want to see their line more than hide it. I rely on feel and sight, combined I know where my fly is and what it is doing. This is salmon fishing. I need accuracy but there is room for movement. - Tony Bell - Advanced AAPGAI Spey Casting Instructor & Owner Sunray Adventures
• I am with Stuart on this one. These are exactly the colors I use both fresh and saltwater. One exception is while using fast sinking lines, then I go with the dark green line. - Jim Trueman
• Hi Guys. I have to chime in on this question. As a long time Atlantic Salmon fisherman, 43 years of 75 days or so on the river, I have used just about every color of line imaginable. I remember when Scientific Anglers produced a hot orange line that was really bright. I got it in my head that it would be good to be able to see the direction a hooked fish was headed in order to avoid potential line foul ups.The color seemed to have no effect on my ability to hook fish and today, I'm way more concerned with the way the line fishes than having the color scare the fish. Just my thoughts. - Mike Crosby
• I don't like the bright non natural color lines. I prefer light blues, grey tone colors, and so on. Just my preference....Glen Hobbs
• Floating.....doesn't make any difference the fish see a silhouette so they all look dark. Sinking....I like a neutral color like a nice olive. I think it cover more bases. I was a guide for Madison River outfitters for 14 yrs. - Kirk Drowne
• I use the Airflo Ridge Pure Clear Delta Lines in floating, slow and fast link with an added 12 foot light blue shooting head for salt water on the floating line. The clear line is near invisible in the water and the light blue line helps as a indicator through the waves. - Robin Lambert
• For Myself I have been using either green or yellow fly line more to see the line as age has made it a little more difficult to see the dry fly... I don't really think it makes a big difference to the fish - John Bambrick
• Line colour depends on two things. 1) How skittish the Fish are. and 2) How good your eye sight is. John Marcum Director of Fly Flickers of North America


Salmon fishing books