The Yellow Torrish Double Hook Salmon Fly
The Yellow Torrish is an excellent Salmon spring run fly. It is one of the old flies that grew popular all over the world due to the established fishing tackle company Hardy Brothers, selling them throughout the British Empire and beyond.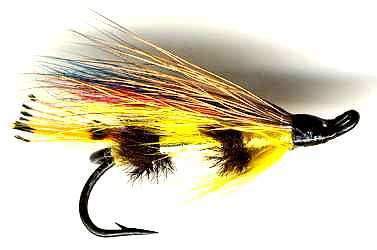 SALMON DOUBLE HOOK FLY PATTERNS. Hook size 4 6 8 10 - $US each
The Yellow Torrish received its name from a small town called Torrish in the Scottish North West Highlands. It was designed in the mid 19th century, to fish the river Helmsdale which runs through the area and near the town. This fly, that is over 150 years old, still catches great Salmon. The color and tinsel of this fly make it very attractive. Because of it's brightness it is particularly useful when the water is rising darkly, just before the earthy stain arrives, and when the stream is settling after a spate.
In British rivers, the earliest of the salmon runs is of grey backs or winter fish. They enter the rivers between October to January and are in the 12-30 lb range. They are heavier than the spring run fish because many have spent three or more winters in the ocean. What is strange is that although they entered the freshwater river system in autumn, they do not spawn until October and November in the following year.
The salmon spring run begins in January and runs normally until early April. This is followed by the summer run of young grilse salmon that have only spent one year overwinter. It is normally in full flow in May. Apart from the grilse salmon, fish in the spring and summer runs normally spent a couple winters in the open sea. Unlike the returning winter salmon, they spawn in the autumn of the year in which they enter freshwater.
Because of the high amount of rain during winter and spring, fish returning during these periods can access the uppermost sections of the River because of the high water depth. Summer run salmon have to contend low water conditions and therefore occupy the middle catchment area of the River and its tributaries.