The Silver Doctor Double Hook Salmon Fly
The Silver Doctor Double Hook Salmon Fly is one of the fully dressed patterns much loved by salmon anglers of the 19th century and early 20th century. The dressings of these patterns were extremely complicated and included many exotic plumages from endangered birds.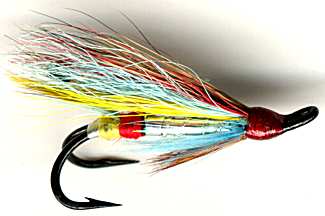 SALMON DOUBLE HOOK FLY PATTERNS. Hook size 4 6 8 10 - $US each
THE SILVER DOCTOR SALMON FLY PATTERN
The Silver Doctor is an imitator fly pattern that tries to copy the characteristics of small young juvenile fish. Bait fish have to dart quickly if they are to survive being eaten by bigger hungry predators. Next time you are on the water study the activities and movement of these smaller fish and then try to mimic this behavior. Notice that they have very silver bellies. This is why the Silver Doctor uses silver tinsel and ribbing along the hook length. It is a good fly to try in cloudy water when a river is in spate after a rain storm in the mountains. The silver will reflect any light and attract nearby predatory fish. When the salmon are not feeding the reflective body and bright colors will annoy them into an attack if you swim it close to the salmon's face. I have also caught large Brown and Rainbow trout on this fly. They feed on small bait fish and this silver bodied fly pattern looks like food to them. How are they to know it is a salmon fly.
The original Silver Doctor salmon fly pattern was designed during the reign of Queen Victoria. It was an extremely complicated fly pattern that used many exotic feathers from endangered birds. The new version of this successful productive classic wet fly uses modern materials but keeps to the original effective color scheme. This fly was designed by James Wright, who lived near the famous Scottish salmon river called the Tweed. His house was in the town of Sprouston, Roxburghshire, Scotland. He had produced many famous flies that are still used today; the Thunder and Lightning, the Black Doctor, The Blue Doctor, the White Doctor, the Durham Ranger, Garry Dog, Silver Grey and the Greenwell Glory. That is quiet an achievement for one man. Most fly dressers are extremely happy to come up with just one new successful productive fly pattern, not James Wright. He was born in 1829 and died in 1921. This Victorian fly fisherman ha been given the accolade by some as being the greatest creative fly dresser that has every tied a fly. The early fly fishing Gentlemen's publications included articles about the Silver Doctor and how to fish the pattern to catch salmon. They were exported to Norway, Sweden, Canada and northern USA along with samples of the fly. The pattern became very popular on both sides of the Atlantic.


Salmon fishing books