The Jock Scott Double Hook Salmon Fly
This classic salmon fly the Jock Scott Double Hook Salmon fly was created during the height of the Victorian fascination of constructing salmon flies with the most exotic and colorful feathers they could get their hands on. It also catches trout.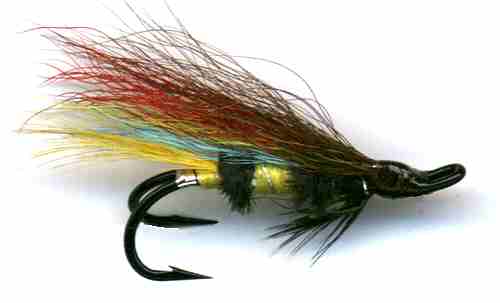 SALMON DOUBLE HOOK FLY PATTERNS. Hook size 4 6 8 10 - $US each
It is one of the most famous of classic salmon flies and arrived on the fly fishing scene around 1850. John Scott the creator, was better known as Jock. He was born in 1817 in Branxholme, Roxburgshire in Scotland. He started his working life at the tender age of 13 when he was employed as an assistant to Robert Kerss, the head game keeper of the Marquis of Lothian. It was Robert who first taught him to tie a fly. By chance two years latter Lord John Scott a renowned field sportsman, took a fancy to the young Jock Scott after finding out they had the same name. Jock stayed in his Lordships service for twenty-seven years until his master's death.
He then became keeper for his masters friend the Earl of Haddington. His employers were the keenest of country sportsmen. Day and Night they would be out hunting and fishing. He created the fly in an effort to make a new and vibrant fly. He was so pleased with the results he had whilst fishing that he gave one to a fishing tackle maker called George Kelson. Whilst having a very bad days fishing where nothing was working Mr Kelson, clutching at straws, put on the fly Jock Scott had given him. It worked. It was a salmon killer. He named it after its curator and promoted in his business and fishing books. There are many versions of this classic. Modern materials are now substituted for the feathers of endangered birds. The fish do not seem to notice the change, as the new hair-winged Jock Scott is as much a Salmon taker as the Classic ever was.
Loch Craggie and the Jock Scott fly
I had planned an Autumn/Fall escape of two days salmon and trout fly fishing based around the town of Lairg in Sutherland, Scotland. I had already paid for my room in the local pub. I had tied a batch of double hook Jock Scott flies I wanted to try out. My heart sank when I heard the bad stormy weather forecast blaring out of my car radio as I crossed the Scottish border. It seemed my hopes of catching some good fish may be dashed, but I remembered that one of the places I liked to fish had a big mountain that blocked Atlantic winds on part of the water.
I arrived on the shore of loch Craggie, high on the hill under the north-east flank of the mountain Meall Dola. My wife says it is my favourite stretch of water because of the name. My first name is Craig Moore. It is a magnificent location surrounded by many majestic peaks. The second highest mountain in the United Kingdom, Ben More can be seen to the west. Yes I had to climb that in my youth just because of its name being the same as my surname.
Loch Craggie is a mile long and shaped like a moose head. Because of its orientation a fresh south-easterly wind can swiftly generate sizable waves, which can leave boats stranded at the north-western end if you are not careful. Today was no exception. The wind was strong.
A limestone belt of rock lies under the loch boosting its pH value. It is not as acidic as many highland waters. It is a good insect friendly environment which means there is a good supply of food for the fish. This produces good sized trout and salmon.
We put on all out wet weather clothing and safety equipment. I was fishing with Angus, a friend from Inverness, who works in IT but is a fishing nut. We worked our way down the western shoreline. It is protected from the worst of the strong winds by the bulk of Meall Dola. I spied thick patches of weed and bronze glimmers of r\ock deep down; plenty of fish hiding features, lots of food and not too deep.
Just to the right of the boat I noticed a brief bulge in the wave that betrayed a feeding turning fish. I sent out a cast with a double hook Jock Scott on point. A draw up to my rod tip and my Jock Scott was engulfed. What an amazing start to the day. A spirited fight ended with an eight inch trout with a deep belly and powerful tail thrashing around in my net. Its proportions exuded health and good feeding. There were none of the signs of over stocking or under feeding so common on many, more acidic, Scottish Lochs.
Angus was next to find a fish. I had given him one of my recently tied Jock Scott flies to try out. He sent out a longer cast near the weed bed. A pause and on the first pull a boil and tightening of the line, but with no sign of the fish as it turned and made a long run past the stern of the boat. It then dived as it tried to get away. The line went tight, too tight. Angus paid out line as the boat drifted on, convinced the fish had gone around a rock, and giving it plenty of slack. I stopped the boat drifting.
By raising his rod and then tightening again with it out flat to the right, Angus resumed contact with the fish. It speed away in a powerful run but as it came back near the boat I managed to coax it into the net. It was a fine 1lb golden flanked, chocolate-spotted trout, a good quality highland loch fish.
We caught a further seven trout between us by staying in the wind shadow of the Meall Dola. As the Jock Scott double hook flies had been so successful early on we kept with them. I believed the reason why this fly works is because the yellow body imitates the belly of juvenile fish and the dark fibers of the wing, the back of the young bait fish. Using hair for the wing adds natural movement to fly pattern. the trout in the loch are looking for good meal and this is what the Jock Scott resembles.