Greenwell's Glory Soft Hackle
If you are fishing for trout in streams, rivers, lakes and reservoirs where olives hatch then you need to have in your fly box a Greenwell's Glory soft hackle wet fly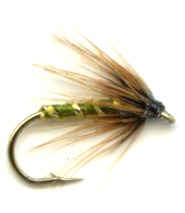 SOFT HACKLE NORTH COUNTRY SPIDER WET FLY PATTERNS. Hook size 12 14 - $US each
The Greenwell's Glory soft hackle trout fly fishing pattern has been used for over a hundred and fifty years. It is still being used because it works. It is a tried and tested fly design for Rainbow and Brown Trout. The winged wet fly version of the Greenwell's Glory. It is said to have been devised by James Wright (1829-1902) for use on the River Tweed. He had a reputation as a good fly-dresser. He lived in Sprouston, below Kelso-on-Tweed. The Prelate of Durham Cathedral was a keen fly fisher. In May 1854 he had noticed that the local trout were feeding on on specific emerging mayfly. He netted a few and went to visit Mr Wright with his specimens from which he hoped a working imitation could be designed. The result was a winged wet fly. The Prelate took the new fly to the water and it produced a good tally of trout. The Prelate's name was William Greenwell (1821-1918). James Wright was told of the success from the happy clergyman. James named the fly the Greenwell's Glory. Word spread and it became a fly that he regularly produced for customers. There have been a number of variations on the basic design; a popular Dry flay as well as this north country soft hackle Greenwell's Glory.
In Britain, March to around the first week in May then again later in September is the normal time to deploy this flyfishing weapon. I still have had success with the Greenwells Glory outside these periods as it can be regarded as a general representative of a whole range of upwinged flies. It works best by taking fish looking for nymphs just before the hatch of medium olives. The delicate wing hackles move when the fly is retrieved and then paused. This produces life like action which suggests to hunting predatory trout that the fly is alive and swimming just like the natural insects. Look for the first signs of a hatch of Olives. As soon as you see the first Olive mayfly get airborne it is an indicator that under the water surface they will be other mayfly nymphs preparing to swim to the surface to emerge as an adult dun. This is your signal to dive into your flybox and tie on a Greenwell's Glory Soft hackle spider fly.
CANON GREENWELL's 1917 LETTER
The Fishing Gazette published a letter sent in 1917 to Sir Herbert Maxwell by Canon Greenwell on the subject of how the Greenwell's Glory was invented. I think you will like to know how Greenwell's Glory came into existence. I was fishing one day in May when the water was alive with the March Brown. The fish were not rising to the March Brown, but at another fly which I did not remember ever to have noticed before. I caught some of them, and came to the conclusion that the best imitation would be the inside of a black bird's wing, with a body of red and black hackle, tied with yellow silk.
On returning home I went to James Wright's house and told him to dress me a dozen flies of the pattern I have mentioned. Next day I had as fine a day's sport as I ever remember, and going, on my return, to James Wright, he asked me what success I had had. I told him I had filled my creel. "Why", he said, "but your creel holds 32 lb." "yes," I said, "but I have got my pockets full as well." "Wonderful" he said, "with March Brown, no doubt." "No," I said, "almost all on the new fly. Dress me another dozen for to-morrow."
Next day I had nearly as good sport. On going to his house to tell him of it, he said, "We must christen it" "Well," I said, "Jimmy, that means whisky," to which he replied, "You cannot christen without liquid". I said, "As soon as I get home I will send you the whisky and after I have had my dinner, I will come down and we will have it christened". Knowing that there were sure to be a number of people gathered at his house I sent down an ample supply. When I got down I found fourteen or sixteen assembled, with the schoolmaster at the head. Mr. Brown then said, "We have the punch brewed and you must name the fly". . . . "Then," said Mr. Brown, "are you all charged? Then success to Greenwell's Glory!"
CUSTOMER'S COMMENT
I fish in Norfolk County in Toronto, Canada. I've been a bit spoilt of late I suppose [or lazy] since I've joined a trout club. We have two ponds both stocked with rainbows [they seem to be getting huge of late and many are in 10-21 inch and 3-5 lb range!...don't know how that compares to clubs/reservoirs at your end] and one has native brookies [some call them speckled trout]. They were native to stream before it got dammed and made into a pond about 40 years ago. Problem with the club thing is you tend to neglect the streams hereabouts. Well, we do have some world class fishing not far from Toronto on the Grand River....not uncommon to have brown trout in the 20 inch and up vicinity. But of course they are hard to catch. The Grand is a tailwater fishery and so it's temp and water levels usually are fairly constant unless we have a poor rain starved summer and/or weeks of high temps...which can happen. The Grand gets fished a lot so the fish are pretty wary. But it makes for good sport. There are also good bass and pike to be had in it in the lower reaches that are warmer...in fact, I hear world class bass now around Paris and Brantford, Ontario.
There is usually good steelheading on all the major rivers hereabouts that flow into the Great Lakes [Erie, Huron and Lake Ontario] in the Toronto area...i.e., the Nottawasaga. I haven't pursued that myself yet however. Mostly I enjoy fishing the small streams and tribs of bigger rivers [Grand, Nottawasaga, Pine, Boyne] within 150 km of Toronto area. I usually fish for brook trout and browns and 2 yrs ago got a nice 21 inch brown on a stream no wider than 10 ft across! Amazing experience...on a 4 wt rod to boot. And I do bass and panfish fishing on local ponds and lakes...always great sport.
On our trout club ponds I've found a number of English patterns have worked well...especially the north country spiders and the Greenwell glory variants that you sell. We do a lot of fishing of epoxy buzzers too which are deadly....last night they went off your bloodworms and would only take black buzzers! :) Fished static on an indicator. Got some decent action the other eve on a Tups...and that was fun. Then they were off that. Your Adam comparadun patterns seem to work nicely esp stripped in under the surface. One fly you might be interested in tying/making/selling/trying yourself is what we call the "usual" over here....originated with Fran Betters in NY. Google it...it's an interesting story. The Usual is a bit like the Greenwell's glory spider et al in that it seems to be a great all around fly that can be fished wet, damp, stripped in, or dry....amazing genius in those flies eh?
We like muddlers too! [and wooly buggers/leech patterns]. People of late have now gone to fishing leeches static but they use special jig hooks and balance them with a pin tied on as a bead head...that makes the leech hand horizontal in the water...."suspended leech" they call them. also deadly although I haven't bothered fishing them myself. I enjoy buzzers and dries and the small wet flies. In recent years, especially in western Canada, small micro leech patterns have become fly fisher favorites. Leech patterns tied on size 10 and smaller hooks dangled beneath strike indicators work like magic. This catatonic leech presentation is a preferred tactic during the early spring and fall months as trout prowl shallow margins amongst weed pockets and emergent vegetation. The taunting fluttering dance of a suspended micro leeches is often too much for trout to refuse, including those not terribly interested in feeding. Michael Todd, Canada
CUSTOMER'S COMMENT
I fish the rivers of the Welsh Boarders especially the River Tanat. It is a delightful water with fast streamy runs interspersed with calmer pools. The Tanat supports a good head of wild trout ranging from ½ - ¾ lb fish. When the season begins in mid-March I fish downstream using a team of soft hackle wet flies with a beaded pheasant tail on point. The most productive soft hackle fly pattern is the Greenwells. I put this down to the high concentration of large Dark Olive Mayflies and Grannon Caddis larvae that inhabit this river. Later on in the season I switch to dry flies as the trout are looking up for their food rather than in the depths. - John Langdon


Fly Fishing books