The Green Highlander Treble Hook Salmon Fly
The Green Highlander Treble Hook Salmon fly pattern refuses to die because it still bring great results. The modern version of the famous fully dressed pattern uses hair-wing.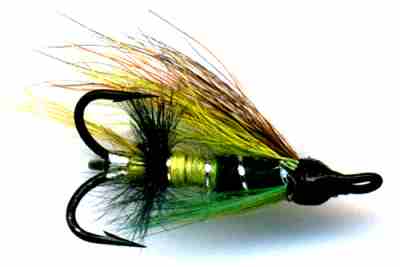 SALMON TREBLE HOOK FLY PATTERNS. Hook size 8 12 - $US each
The Green Highlander Treble Hook mixes colors of bucktail to form the wing rather than the feathers of the endangered exotic birds of the original. This method is used to update and improve many of the old traditional patterns. The original was designed during the latter part of the 19th century by Mr Grant of Wester, Elchies. The older fly called the highlander is considered the forerunner of the Green Highlander. It is notable as it is one of the few green classic salmon flies. For some reason, apart from the Green Highlander, green flies never became popular in Great Britain in times past unlike today.
CUSTOMER'S COMMENT
Have to say a size 12 Green Highlander for salmon as I was lucky enough to be in the right place in Russia to catch a 46.5lb, Adrian Latimer, France


Salmon fishing books