The Norwegian Silver and Grey 1 inch Copper Tube Fly
The Silver and Grey is a salmon pattern popular in Norway. It is an ideal bait fish imitation. I first found one of these flies on a trip to Oslo, the capital of Norway.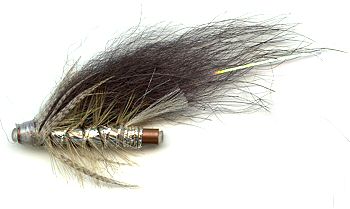 SALTWATER, SALMON & STEELHEAD TUBE FLY
$US each. Price does not include hooks.
I always visit local fly shops to hunt for different patterns. This fly was found in all of the tackle shops. I purchased samples in single, double and triple hooked designs but the most effective variation on all my fishing days, the most productive fly, was the silver and grey tube.
Atlantic Salmon Fly FIshing in Norway
Everyone is of the impression that Salmon fly fishing in Norway is very very expensive. Though true in some private Norweign fishing beats there are a number of free public stretches of rivers that are very fishable and contain large Atlantic Salmon.
One of the more popular salmon rivers is the Gaula. I spent a week camping near the village of Storen. You can rent small holiday log cabins if you prefer. They contain a kitchen, living area and bunk beds. Ideal for small groups. Storen is just over an hour's drive from the very pretty costal port of Trondheim. It's airport is served by many budget airlines like Easyjet and Norwegian.com.
The campsite is right on the banks of the river. It is an amazing spot. We got up very early and fished until it was dark. A three mile stretch of the water is open to the public. All you need to buy is the local rod licence and permit from the Storen Fishing Club (SJFS). They are not expensive.
It can get a bit busy at the weekends as the salmon fishing season is only three months long during the summer. Check the dates with the fishing club before you go. If you do fish at the weekends the best way to avoid the crowds is to fish very early and very late when the day trippers are fewer in number.
In the summer the night is very short because you are so near the Arctic Circle. It may only get pitch black at 3am or 4am in the morning. This gives you a lot of time to stay on the water. An afternoon siesta after a large campfire lunch and a few beers gives you the stamina to remain fishing after midnight. There is hardly anyone on the water at that time of the day.
There are spectacular views. You are surrounded by pine tree covered mountains. The air is clean and even in low water conditions the river seemed to run more powerfully than any Scottish river I have fished. The local anglers recommend large tube flies with double hooks. The tails should be long so they give plenty of sideways movement as they are retrieved to suggest the swimming action of a smaller prey fish's tail. Orange flies always work but purple or black flies produce fish as well as the Norwegian Silver and Grey tube flies.
I would not recommend this location to a novice angler. It is okay if you are traveling with experienced salmon fly fishermen, but it can be a little daunting. We were there when the water was low. Overhead walloping casts were the preferred means of fly delivery by the local Norwegians rather than the more serene Spey casts. I suppose they must be used to tackling the Gaula at 'normal' height, where you would not dare wade over your knees, knowing that the next hour or more could mean you might be attached to the biggest salmon you are ever likely to hook battling to try and get away from you. You normally never see a Gaula salmon under double figures. My best fish was 29lbs.
Pack salmon rods in the 14ft to 16ft range, handling 10/11-wt line. Intermediate and sinker lines are the most popular but having a range of lines at had to deal with different fishing locations is recommended. Your leader strength should be no less than 15lbs (25lbs is best) as there is a good chance of you hooking into salmon over 20lbs. There is a tackle shop in Storen but the prices are normally two to three times the price of fishing equipment you can buy online.
Use Google to research other stretches of open water on different salmon rivers in Norway and the forecast salmon run dates. Treat yourself. There is no language problem as most of the locals understand English. Plan to self-cater. Cook your meals at your campsite or in your rented lodge. Food prices at the local stores are affordable but going out for a meal with wine and beer can require you taking out a mortgage.
You can take the train or bus to Storen from Trondheim but hiring a car is the better option especially if there is a group of you. It also helps you get around to other sections of the river easier. It is very important that you disinfect all you tackle and waders: basically anything that comes in contact with the waters so you do not spread the deadly parasite Gyrodactylus salaris. This critter has destroyed a number of Scandinavian salmon populations over the years and left some rivers barren. Disinfect before you leave home, at the campsite and when you leave the campsite. If money is no object and you want to fish in luxury then contact the Norwegian Flyfishers club at www.nfc-online.com.


Salmon fishing books