The Ally's Shrimp 1/2 Inch Copper Tube Fly
Back in 1997 Alastair Gowans talked about how he developed his famous salmon fishing Ally's Shrimp fly pattern. "My interest in the creation of lifelike movement in my flies developed a long time ago, first with long hard tubes, then with long hair-winged flies and finally with the All's Shrimp pattern I developed in the early 1980's".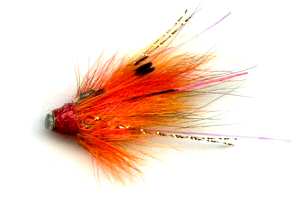 SALTWATER, SALMON & STEELHEAD TUBE FLY
$US each. Price does not include hooks.
Alastair Gowans in his interview said " I am often asked where my Shrimp fly pattern came from. Well here is the story. Firstly, I accompanied a friend who owned an inshore trawler on a fishing trip around the outside of loch Lhinnie on the west coast of Scotland. Our target species was the Norway lobster or langoustine as it is more commonly known."
"When the nets were hauled up, I saw all sorts of wonderful marine creatures land on the ship's deck, including long slim and very active prawns, the likes of which I had never seen before. They were a semi-translucent, whitish grey color with just the faintest tinge of orangy pink through them. I could see their distinctive guts. They showed up as a black blob. It was not so much the colour that fascinated me but their shape and movement."
"They looked much longer than any shrimps or prawns that I had seen before and in the water they had a sleek gliding movement. That was it. I just had to try and emulate that shape with a long slinky fly. As it happened the first design I tried was the orange Ally's Shrimp. It was given that name by one of my friends. The term Ally is a Scottish abbreviation of my first name Alastair. Behind the dressing was the thought that it had to somehow imitate by illusion and movement, the key features of the wee beasties we trawled up on Loch Lhinnie. So the eyes, guts, feelers, legs and an accentuated colour combination, including a translucent effect had to be incorporated."
"The feelers were easy; just a few strands of bucktail did the trick. The eyes too came naturally, because I had long imagined that a bunch of level tippets was suggestive of both eyes and shell. An overall shape and legs had to be contrived. A dark gut was needed so half the body was made with black foss and the other half was made red. Grey squirrel wings top and bottom blurred the image and produced the movement and translucence noticeable in the natural prawn. A long mobile collar hackle would cocoon the body into a shrimp like outline representing legs and help further emphasise movement."
"I would dearly love to say that I had immediate confidence in my creations, unfortunately I did not and the Ally's Shrimp lay in my fly box for a long time before I dared or was desperate enough to use it. Having fished for salmon all morning at Rome Croy on the river Tay in Scotland and having neither touched anything or seen anything else caught by other salmon fly fishermen, I searched my fly box for inspiration, as one does despairingly on such occasions. My eye caught the little orange fly in the corner. Nothing ventured nothing gained I thought, so the tube fly I was using unsuccessfully, was removed and the new fly was tied in its place."
"After only a couple of casts a fine grisle salmon took and was safely landed. The rules of this beat on the river oblige a successful angler to vacate the pool until anyone waiting has fished down. There were a few guys waiting so I headed off to a lower pool that was deep and fast. I reverted to the tube fly. It was a dour day. There were fish about but they didn't want to take. By evening most of the other anglers had departed in disgust leaving only a few die-hards and me remaining. "
"Several fish were rising well out in the centre of the Grainhead pool. They had been fished over most of the day by a number of anglers without success. Three or four disillusioned fishermen sat together on the bank, eyeing the salmon with an air of despair, seeking solace in the last dregs of coffee in their flasks."
"To be truthful, I was in the same state as I meandered upstream not knowing whether it was worth the effort of a few more casts. Seeing my hesitation one of the bankside fisherman called over to me with tongue in cheek, 'One you go Ally, show us how it is done !' No doubt I was expected to fail. Even I expected to fail. Hadn't these fish seen everything? Ah! Then I remembered my little orange fly. With some reluctance I waded out. Swinging nicely, I thought to myself as the first decent cast came over the salmon. Just then the line tightened in that lovely, steady way it sometimes does. I had managed hook one of those most difficult of salmons in front of a very sceptical now bemused audience of my peers."
"The first fish was landed and then another two from the same place on the same little orange fly. By then the darkness was approaching and in a careless moment I made a mistake. I did not re-tie the fly in my hurry to get fishing again. The third fish that evening who took my fly became the proud owner of the original Ally's shrimp salmon fly pattern. That evening, dinner had to wait whilst a whole hatch of Ally's Shrimp salmon fly pattern copies were made for the next day. I had made a whole host of different coloured variations and before long they were being tried, some successfully, some seemingly less so."
"Fly tying is a funny business. First you make all sorts of flies; far too many normally. Then you try to weed out the useless patterns or those you simply don't fancy, to reduce the selection to a few reliable ones. This is how my favourite shrimp fly patterns evolve, through trial and error, over seasons and over years of salmon fishing until now I have a handful of flies I am confident with under all conditions. They are all tied in the same style of the original Ally's shrimp salmon fly pattern but have slightly different colour schemes. Some have dark tails and a dark neck hackle on top of the normal orange and on the other extreme some have yellow hair instead of orange with the rear half of the body being silver instead of red. I use the Yellow Ally's Shrimp in clear bright conditions or in coloured water. "
"Hundreds of anglers have told me of their successes with the Ally's Shrimp. I love to watch their eyes light up and their smile broaden as their story enfolds. Their experiences have brought me great pleasure, but none more so than when the story ends by recounting the thrill of releasing their prize back to the river to continue its long journey upstream to spawn. Wild salmon are precious and their numbers are falling dramatically. Unless we, the anglers, play our part in saving them who will? If you ever feel you want to thank me for the Ally's Shrimp salmon fly pattern or its variants, do me a favour and put a few fish back, then maybe your kids and their kids will be able to thank you for helping preserve salmon for them to enjoy. A nice though isn't it."
CUSTOMER'S COMMENT
Despite my delight in amassing thousands of flies, in Scotland I always carried a small and simple selection: Ally's Shrimp, Willie Gunn, Cascade, Green Highlander (as a 'change' fly) and Stoat's Tail. In various sizes, they always served me well! Best, Gregor McGregor, HK