The Garry Dog 1 1/2 Inch Plastic Tube Fly
The Garry Dog Salmon Tube Fly. One of Scotland's most popular flies, the Garry Dog is rated in all rivers but particularly those that carry a dark peat strain. This attractor pattern is ideal for big Salmon and Steelhead fly fishing. Jimmie Wright is attributed with designing this fly.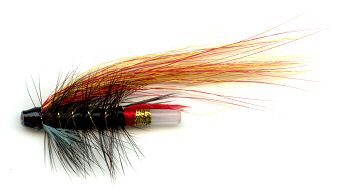 SALTWATER, SALMON & STEELHEAD TUBE FLY
$US each. Price does not include hooks.
The story goes that on the original feather wing pattern Jimmie Wright used hair from a dog owned by a local priest. The dog was called Garry, hence it's strange name. It is also known by other names Minister's Golden or Yellow Dog.
New comers to salmon fly fishing have a greater selection of salmon flies to choose from than their forebears. It can be bewildering. There are the modern hairwing flies based on the less used traditional feather wing salmon flies. Do you use a single hook, double, treble or Waddington hook set up? Tube flies bring the best of all these flies. They can be dressed to match any pattern and use most modern materials. The real advantage is you are in control of the hook type and size you use and you can change it at a moment's notice to match different conditions. So how do you choose what pattern to use?
At the beginning of the salmon season it is generally accepted that a large colourful fly like a Garry dog is the wisest choice in cold water conditions and that this type of fly is also the one to pick when the water is in spate and colored. The water temperature, the rate of flow, and depth of the lie will be a factor in choosing the weight of tube fly and the depth you fish that fly pattern. Do not use a brightly colored fly like the Garry Dog in clear and warmer water conditions you find in late spring and summer. A drab fly will be more productive.


Salmon fishing books