The Red and Orange Volcano Winter Steelhead Alaskabou Streamer
George Cook designed and named this fly Volcano because of its colour being close to molten lava. The reddish orange colour has always been a great salmon and steelhead fly because it mimics their deep ocean food.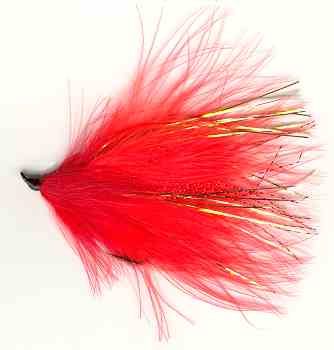 WINTER STEELHEAD ALASKABOU FLY PATTERNS. Hook size 2/0 - $US each
Steelhead, Chinooks, Chums, Char and Coho will feed on shrimp and prawns when they are available. These fish often retain the search image of these crustaceans long after they leave the Ocean and enter freshwater. These are must have flies for Alaska, Kamchatka, British Columbia and the lower 48. Winter Steelhead are normally cold water bottom hugging predators, quite often in rain swollen cloudy rivers. They have a reputation of being a difficult fish to target. Fly fishing in the winter can be challenging just because of the weather conditions. You really have to be keen to fish in water in sub-zero temperatures. Snow, ice and wind chill can add to the problems. Flies tied in winter steelhead spawning colours can spur on territorial males to attack the fly as their mating instincts go into overdrive.
I use a sinking tip fly line to try and get my fly presented at the correct depth where the Winter Steelheads are holding up. Alaskabou flies are my choice weapon. They are made from soft flowing marabou feathers that, although they are big flies, cast well. When pulled on the retrieve the big puff of feathers collapses into a slim lined fish shape that moves with the water. The movement stimulates an attack reflex. The size of the fly helps in cold waters. Fish will normally only stir from their location if the prize is worth it. Big flies rule in cold water. Large flies often stir fish to hunt that smaller flies don't. Size and movement work. Fish your flies slow and deep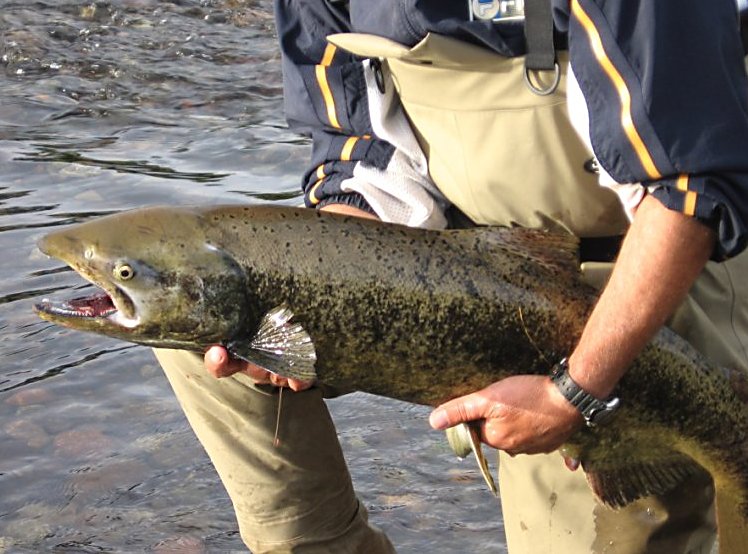 CUSTOMER'S PHOTO
Hi Craig. I fished this female king salmon, just in front of my lodge in Patagonia Argentina, last March. In this case the fly was your red and orange volcano Alaskabou. - Andres Castano www.andyna.net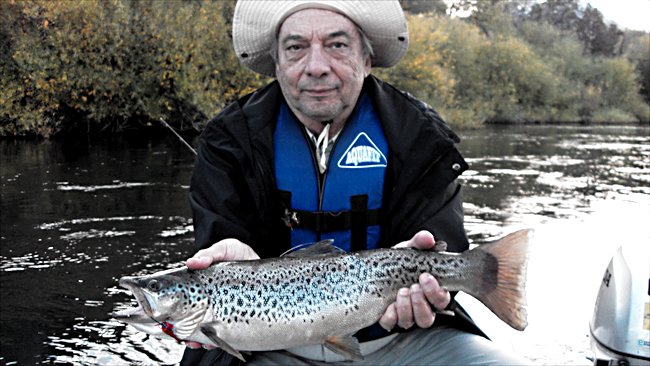 CUSTOMER'S PHOTO
Hello Craig. In April I was fishing in the Futaleufú river, just in front of my lodge (www.andyna.net) trying to fish a chinook salmon (there are many of them coming up the river from the Pacific Ocean, in late summer). To my surprise I have fished a lot of brown trouts. I send you a picture of a friend of mine fishing a salmon with your Alaskabou fly. Regards Andres