The Red & Orange Volcano Winter Steelhead Alaskabou Tube Fly
George Cook designed and named this Alsakabou streamer fly Volcano because of its colour being close to molten lava. The reddish orange colour has always been a great salmon and steelhead fly because it mimics their deep ocean food.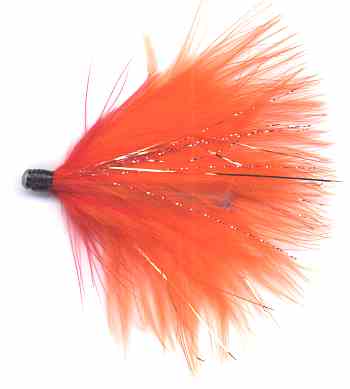 WINTER STEELHEAD ALASKABOU TUBE FLY PATTERNS. $US each - Price does not include hooks
Large soft hackle marabou flies are an important weapon for the winter and early spring steelhead, salmon and char fly fisherman. I am not sure who came up with the idea of large soft marabou flies for steelhead fishing but there have been a number of fly tiers who have added to the development of the design. Eric Lester in his 1987 'Book of Fly Patterns' lists some flies tied in the early 1970's by Jack Gartside, an American fly-tier. The style was called 'soft hackle streamers'. John Farrar, a Seattle guide, adapted Poul Jorgensen's rabbit fur hackle large flies by substituting soft marabou instead. Bob Aid a tackle shop owner from Seattle further developed this style of pattern based on the work of John Farrar. In the 1980's in Alaska George Cook and Don Hathaway found the soft marabou salmon flies they were using worked better for steelhead. They developed their own flies based on the most effective colors that range from red, orange, blue to purple. They were given the name 'Alaskabou'. When modern flash materials became available they were added to give better results.
Jack Gartside used to spin fish with jigs or worms. He had never heard of fly fishing until 1957 when he went to a sportsman show in Boston. There he saw a well known fisherman Ted Williams tying a fishing fly. Jack had never seen a fly tied before and found it magical. He was 13 at the time and pestered Ted to let him have a go. Ted patiently showed him how to tie a woolly worm. Jack was hooked for life. He became a high school English teacher but quit for a life of fly fishing. He roamed the world on a shoestring budget to fish exotic locations. About 1990 he realized that he had been missing the great local fishing around Boston Harbour. There are over 183 miles of shoreline. He decided to fish every mile and has written the definitive guide to the area – The fly fisher's guide to Boston Harbour (available from his website www.jackgartside.com). The water is a lot cleaner than it was in his childhood. The fishing is all year around and world class. Striped bass are the best game fish. With all this waterfront it is easy to find isolated stretches.
Jack has not found it easy fly fishing for a profession as he never knew where the next dollar was coming from. Summer is his slack time. He fishes but also has to get ready for the winter. That is when he does most of his work and has to earn enough to see him through the next summer. He makes his living tying and designing flies, writing and giving public displays. He ties thousands each year but he has had to supplement this income with regular jobs like taxi driving , skimobile servicing, tobacco factory worker and coffin maker. If you have ever dreamed of giving up your day job and becoming a professional fly fisher seriously think about your decision before you commit yourself.