Purple and Blue Alaskabou Tube Fly for Winter Steelhead
Accurately casting a Purple and Blue Alaskabou Tube Fly to the edges of a the gathering steelhead male pack will get hits from the males. Cast far enough upstream of the fish to allow the fly to sink to their level before it gets to them.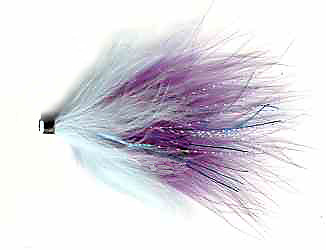 WINTER STEELHEAD ALASKABOU TUBE FLY PATTERNS. $US each - Price does not include hooks
Winter Steelhead fly fishing tips
Last year I had an inspirational winter steelheading fly fishing road trip on the Pacific Northwest. It is defiantly a precise art form practised by very hardy fly fishermen. It begins in late Autumn/Fall and lasts until early spring. There are also good steelhead fishing to be had around the Great lakes. Weather conditions are often less than ideal for these fish. The steelheads have to run rivers that range from flooded torrents to ice covered slush.
My friend Gerry, a local retired Portland policeman, was my guide. He has been fishing for winter steelheads for over twenty five years. He sent me a list of do's and don'ts for winter fishing. I thought I would share these with you.
Do make sure that you dress in multiple layers of thermal vests and leggings, topped by fleece and a rain and wind proof breathable outer shell. Wear a warm fur, fleece or wool lined hat. Do use 5mm neoprene, boot-foot waders for maximum warm air circulation around your feet. Do make sure that the river you fish is a good producer: one that has a recorded winter steelhead population year to year. Do wear cleats on your wading boots and use a wading staff. Put on an inflatable cartridge floatation device and carry a cell phone in a waterproof case secured to your jacket with a lanyard for emergency use.
Do concentrate your time on the water around the warmest and calmest parts of the day. This is normally from 11am until dusk. Do stay until it gets dark as the dusk winter bite is often explosive. In clear low water use small nymphs and egg patterns with the lightest fluorocarbon tippets you can get away with. Use a large reel that has a track record of not freezing up. Do change patterns often to steelheads that are exposed to heavy angling pressure. Show them something different than the normal local patterns if possible.
Don't start fishing during severe barometric pressure changes when high and low fronts change rapidly. Wait for when a stable low pressure system is overhead for a few days to get the best takes. Watch the weather forecasts.
Don't fish a floating line with a down and across swing when rivers are pouring out a flooded and off colour rage. Use sinking lines or running lines with lead and fish big, black patterns or egg patterns slowly near the bottom of pools and near shore seams. Slow your presentation down to drift three times slower than the current.
In clear water do fish big marabou bright coloured patterns. If you are lucky to get a sunny winters afternoon switch to naturalistic patterns like large stonefly nymphs. The natural insects would be stirring from the deeps looking for food and the steelheads will be looking for them.
Do try to time your trip to the river after a heavy mountain rainstorm fed spate or snowmelt has receded. Phone local lodges or fishing tackle shops for a situation report. If your timing is good you will find steelheads stacked up in Clearwater pools and holding lies.
Do keep your beer and whisky consumption to minimum as it can increase your chances of getting hypothermia. It makes the heat of your body go to your extremities rather than keeping it in your core. Carry a couple of thermos flasks of warm soup and coffee to warm your inner core quickly if you get cold. Drink plenty of water to keep hydrated. Do not fish in extreme cold sub-zero high wind-chill conditions as frostbite is not funny.
Do not expect to catch lots and lots of steelheads. Every fish must be worked for. Seek out the slow flats and guts of pools known as frog water. Avoid fast throat riffle water in ice river conditions. Successful winter steelhead fishing does not revolve around the use of a particular fly pattern or tackle. It is all about the persistence, patience and determination that you use when casting and covering every piece of winter holding water.
Do try to concentrate you fly fishing efforts on river bend sections where deep seams and tailouts create the best winter steelhead holding lies. Respect and cherish every steelhead you catch. They are few and far between. That is what makes them special. Practice catch and release.