The Wulff series of fly patterns were developed by Lee Wulff. It presents a bushy, high floating fly, that remains visible into the evening twilight, and rides well in rough water.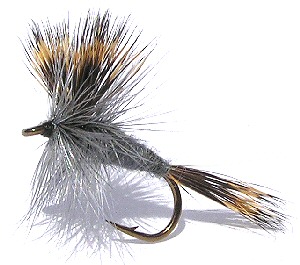 WULFF DRY FLY PATTERNS. Hook size 10 12 14 - $US each
Every modern fly angler should have one or more of Lee Wulff's innovations. He designed and sold the first fly fishing vests, championed reeling with the left hand on fly reels (so the rod was in the stronger right hand), invented the first palming spool fly reels, introduced the fly-O casting practice rigs, popularized the "riffling hitch" for salmon fishing and designed the popular triangle taper lines. However, Lee Wulff's best-known innovations were in his flies.
Wulff patterns were the first flies to use hair for fly wings and tails. Almost all dry flies available in the winter of 1929/30 were, according to Wulff, anemic and too delicate, which he ascribed to their British tradition. The reason for very slim flies was that if a fly was too bulky the feather materials did not have the buoyancy to hold it up. A very popular pattern, for example, was the Fanwing Coachman that not only twisted the leader but also sunk at the tail due to the golden pheasant tail fibers used. Wulff also noted that dry flies with wings and tails of feathers get slimed up and are not very durable. To Wulff, the solution was obvious use bucktail (deerhair) for tails and wings. The mobility and buoyancy of elk and deer hair has made it a favorite North American fly tying material.
The first Wulff flies were tied to imitate the Isonychia (Gray Drake) and Green Drake hatches in the Catskills area of North East America. Wulff first fished these patterns with his regular fishing companion, Dan Bailey, who was then a science teacher in Brooklyn. In those early trials with these new patterns, Lee's was not disappointed. He found that the fish seemed to prefer the bulkier flies that "looked more" like the naturals than the more anemic patterns that were then popular. With respect to durability, the hairwing flies also excelled. Wulff reports he caught 51 trout on one Gray Wulff fly in an early outing, needing only to "grease up the fly for every 5-6 fish". The first patterns included the Gray Wulff, White Wulff and Royal Wulff. The Grey Wulff can be used to imitate any dark mayfly the trout are feeding on but when Lee Wulff was reportedly asked what the Royal Wulff was imitating he supposedly said, "Strawberry shortcake, something great big and juicy floating down to a large trout." It is an attractor pattern that is easily seen and high floating. It is a sweet little dessert that predatory fish find irresistible.
Later several other Wulff patterns, including the Grizzly Wulff, Black Wulff, Brown Wulff and Blonde Wulff were developed. Lee Wulff stated that these flies were a general kind of fly, not a particular pattern. When you first use Wulff flies treat with floatant and fish on the surface. Leave the fly to drift with the current. Occasionally accelerate it gently over short distances of a yard (meter) or more, or else twitch it to represent a struggling insect trapped in the surface film. They were first used in Britain in the 1950's but they saw very little service in Ireland until after 1990
Gray Drake mayfly (Siphlonurus)
The Gray Wulff dry fly is an ideal fly pattern for imitating the Gray Drake mayfly (Siphlonurus). Midwestern USA streams have prolific hatches of these mayflies. On my last trip to Michigan's AuSable river I was lucky to be there at the right time. I had a number of hook ups but after an hour nothing. The trout started to feed on other hatching insects that had started to make an appearance at the same time; the Michigan Caddis (Hexagenia limbata), brown drake and sulphur dun. This never happened on my fishing trips to Yellowstone National Park. I have been lucky to be on the water when there have been great hatches of Gray Drakes. I gave up counting the amount of native cutthroats I caught and released; some were up to 20 inches in length.
I have also fished Gray Drake hatches in the East USA. There are good populations of these insects to be found in the limestone rivers and streams of Pennsylvania and especially in the tailwaters of Delaware river system. Most start hatching in July. You can also find hatches in the west coast rivers that come out of the Sierras and Cascades.
Hatching normally starts when the water temperature is between the high 50's and low 60's after the run off has subsided in July and August. The weather is normally warm and sunny. Look for hatches in early morning, early evening to dusk. Cast upstream and let your Gray Wulff dry fly dead drift over the area of feeding trout. Do not retrieve the fly until it has gone past this area so as not to spook them. A slight twitch can work wonders in in fast water but do not do this in clam water as the drag on your line will be noticed and look unnatural.
Gray Drake nymphs prefer clean food rich alkaline limestone streams. A Gold Ribbed Hares Ear or Pheasant Tail Nymph fly pattern are ideal choices to fish for trout feeding on these insects when fished at medium or deep depths near the bottom. Try using a team of two or three flies tied under a strike indicator or buoyant dry fly. You will read in books on the subject of Gray Drake nymphs that they are normally only found in still water lakes or calm water sections of streams. Not in my experience. I have found them in quieter eddies along stream edges in rivers and streams of medium to fast currents. I have had vicious strikes when nymph fishing by casting downstream followed by small twitches in an attempt to imitate an emerging nymph on its journey to the surface. Dead drifting the nymph imitation flies at different depths is another good tactic. This imitates the gray drake nymphs that have lost their grip on the bottom debris or vegetation by a strong current and are caught floating along until they can grab onto something else.
Gray Drake Spinner falls provide magnificent trout fishing as they are normally highly concentrated. I was fishing for large Rainbow trout on the Alagnak River in Alaska and witnessed several Gray Drake spinner falls. I had a fantastic thrilling weeks fishing with Grey Drake spinner patterns. I ran out so I cut the hackles on my Gray Wulff dry flies, flattened the wings and fished them as spinners. They worked nearly as good.
GOOGLE+ READER'S COMMENT
We have different types of May fly in Ireland. The grey wulff, a killer of a fly on lakes and rivers here. Alan Cassidy
FACEBOOK READER'S COMMENT
I like the Wulff in 10 - 14. I like them real bushy! They make a good searching pattern and I like them on fast moving streams. In larger sizes 6-8 they make a good low water steelhead pattern Bill Wolford. USA
LINKEDIN COMMENT
Grey Wulff is a favourite on a dark day - By Robert Mehigan


Fly Fishing books