The Natural Gray Zonker Streamer
Zonker streamer Mylar tubing imitates the scales on a bait fish's stomach and reflects light to grab the attention of nearby hungry bass, trout, steelhead or salmon.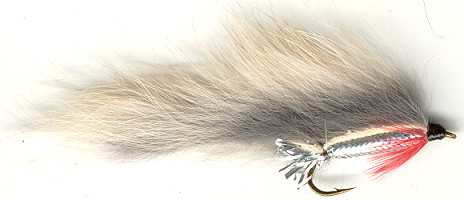 ZONKER STREAMER FLY PATTERNS. Hook size 8 10 - $US each
SPRING STREAMER TIPS - FLYFISHING WITH A ZONKER
• Slow down. When water temps are quite a bit colder from snowmelt and early season rain fish are less aggressive and won't move nearly as far to eat. Vary your retrieve speed and go slower.
• Get Deep. At least deeper than you'd normally fish a streamer. Use a sinking-tip type line or very heavy bugs. This makes casting a bit harder, but will pay dividends in terms of getting your fly in front of more fish that are willing to take a look
• Fish upstream. In the spring you need to get your bugs down and fishing upstream is a great way to do this. Throw a quartering cast upstream, right after your fly hits the water give it a huge mend, which will let your bug get down to where the fish are. This will work with a sinking line or floating line.
• Dead drift your zonker. This runs counter to what you do most of the time with a streamer, but it can be deadly effective in the spring when fish are less apt to chase down a baitfish. Try this with a sinking line.
• Use or tie streamers that utilize a ton of natural material like rabbit, marabou or peacock. Typically when fishing these flies slower this type of material gives a more realistic action and just moves more at slower speeds.
• Use a Non-slip Mono loop knot to tie on your streamer. It's a stronger knot and gives the fly a much more natural presentation when fished at slower speeds. It basically allows it to move more freely than if it was tied on with a simple clinch knot.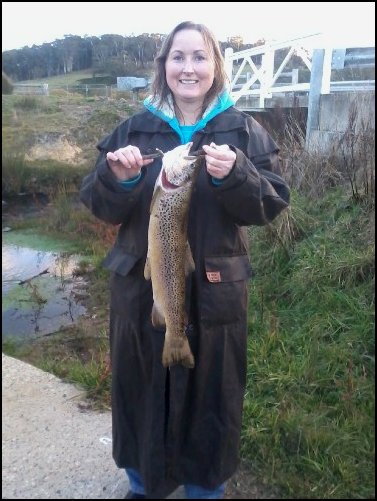 CUSTOMER'S PHOTOS
Hi Craig, I took my wife Cindy fly fishing to the Blue mountains NSW Australia as she wanted to learn and to her credit caught a 59cm brown trout on an English fly shop Zonker the morning was very cold and no insect life at all so I tied a natural Zonker on for her and told her to let it sink and twitch it back as the fly descended this hungry brown grabbed it on the way down he made it very easy for her. Now she hooked on fishing and loves to go with me. Kind regards Pete and Cindy, Australia
CUSTOMER'S COMMENT
During a two week fall convention I was invited to go fly fishing at the weekend in Connetquot State Park on Long Island, New York by a fellow Doctor. I was very impressed with the Connetquot River, it wasn't a river but a fantastic limestone stream. It had a number of clear pools and lots of rising fish. Although most of the trout were stockies from the park hatchery they took on the characteristics of wild trout after only a few weeks in the stream and were feeding on nymphs, mayflies and fry. I had been reserved a section of the river in advance for half the day. I had looked on the information sheet and was surprised that the fishing fee was minimal considering that your are allowed to fish in a first rate spring creek that is only a half hour from Manhattan.
On my section of water I spotted three big brown trout in the fast current. They were going to need a fly that was substantial to tempt them. I tied on one of your natural grey rabbit fur winged Zonker. I cast across the swift current and mended the line upstream to keep the fly drifting broadside so the fish could see the zonkers fish like profile and swimming action. The nearest trout moved over and took the fly. It crashed down the pool and headed for the overhanging bushes by the bank. I managed finally to ease the fish into my net in a backwater. It was a beautiful six pounder. I unhooked my catch and released it back into the clear waters of the Connetquot. I still cannot believe I caught a six pound trout in New York. - Randy Williamson
CUSTOMER'S COMMENT
The Natural Zonker is my number one fly. It has over taken my favorite as it used to be the Gray Wulff. I wrote to you last year to see what flies you would recommend to use in our dams as all my streams were very low because of the drought here in Australia. You recommended large wet flies such as the Zonker which worked very well. In October we had good rainfall and the streams were flowing fast. I fished on with the Zonker. Second cast two twitches on the line and the water exploded with a large brown. I had a very successful morning with the largest fish weighing three pounds. Peter Wilson. Australia.

Fly Fishing books