SED5. Red & Yellow Tarpon Seaducer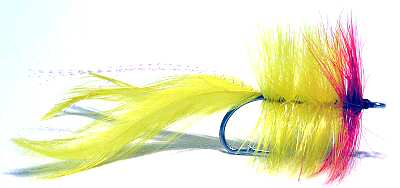 TARPON SEADUCER SALTWATER FLY FISHING FLIES Hook size 2/0 - $US each
This pattern is like the Florida Key Style Tarpon fly but the hook shank is covered with palmered hackle, left upright to be less streamlined and create more disturbance in the water. The Seaducer was one of the first "fuzzy" saltwater flies. The wrapped hackle acts to create lots of fish attracting vibrations when stripped and helps hold the fly level in the water column during the pause. It also has the attribute of falling to the surface more quietly and not spooking jumpy fish. It is ideal for Tarpon as well as redfish, striped bass, snook and other species that prefer slow moving undulating flies with great action at slow speeds. Homer Rhodes is credited with developing this type of fly in the 1950's for us on the East Coast of America. The pattern was first published by author Joe Bate in his 1950s streamer book, but in Lefty Krehís book on saltwater fly patterns he states that he believes that it was a very old fly used in the early 1900ís. It is a great attractor pattern that is especially effective in shallow water. It has been recorded that noted fly fisherman Chico Fernandez used this pattern extensively and proved itís worth. You have to offer the Tarpon something that makes it feel it is worth chasing. A big fish is not going to eat a small fly you would use to catch a bonefish. A large meal for a salmon is a titbit for a shark. Tarpon flies are bigger than other flies.






A general rule of thumb that usually works is use a dark fly on a dark bottom and a light pattern on a light bottom. Dark colors tend to be better in the early morning and brighter colors work best when the sun is bright. The local small shrimp and fish are normally camouflaged to match their surroundings. You should try and match the Tarpon's food source. If that does not work then try to stimulate an attack with a brightly colored attractor pattern. There are times when a brightly colored fly that looks like nothing on earth brings results. When the water warms to 80 degrees, Tarpon come in from the ocean and congregate on shallow "flats" that are usually 4-6 feet deep. They travel in groups ranging from a pod with half-a-dozen fish to a school of over 100 but sometimes you spot lone tarpon, It's an amazing feeling to be among dozens of rolling hundred-pound fish, many exceeding five feet in length. They are designed for surface feeding. Their mouth opens on top, not in front like most fish. They are night feeders that take in drifting shrimp with a popping noise. A good guide will take you on "split" days, with a morning and an evening session.
Tarpon can be spotted when they come up for a gulp of air. They have an air bladder that functions like a primitive lung. It enables them to take in additional oxygen from the air so they can survive in warm water with a low oxygen content. This is also why they are such a difficult to land. Just when you think you've got a fish worn down, it comes to the surface and takes a gulp of air. Rejuvenated, it will surge off again. As a spin off on the US West Coast, Dan Blanton developed his Whistler series, which is similar to the Seaducer but has the addition of eyes and only a collar of hackle to produce the vibrations on the retrieve.






To be sent regular fly fishing information and news on special offers click the British Royal Mail Post box

You can e-mail us at fly.fishing@blueyonder.co.uk
The English Fly Fishing Shop, Estate and Country Sports Equipment Ltd,
5 Woodland Way, Morden, Surrey SM4 4DS, England (Established 1978)