The Orange Pheasant Tail Nymph Fly
The original Pheasant tail nymph was designed to imitate Mayfly nymphs crawling on the river bed or coming up the water surface just befor a hatch.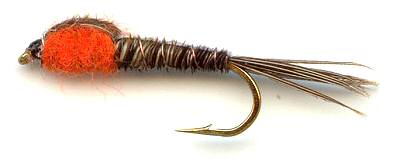 PHEASANT TAIL FLY PATTERNS. Hook size 12 14 16 18 - $US each
English River Keeper Frank Sawyer designed the trout catching Pheasant Tail Nymph fly fishing pattern. He was influenced by the Victorian fly tying legend George Edward Mackenzie Skues sparked off one of the bitterest dispute in the sport of fly fishing's history. He is famous for changing the view of the British Fly Fishing establishment from a "Dry Fly Only" rule to the acceptance of wet flies and Nymphs being used. This opened a whole new dimension to the way Anglers fly fished for Salmon, Trout and other species.
GEM Skues wrote many articles in the sporting press under different names like the Spent Naturalist, Simplex Munidishes, Current Colonel, W.A.G, Unspoiled Child and my favorite A Butt. He spent a lot of his time fishing the Chalk Streams of Southern England but in fact he was born in Newfoundland in 1858. His parents were British. His father was a surgeon. He cannot be called Canadian because Newfoundland was an Independent Dominion of the British Empire and did not join Canada until 1948.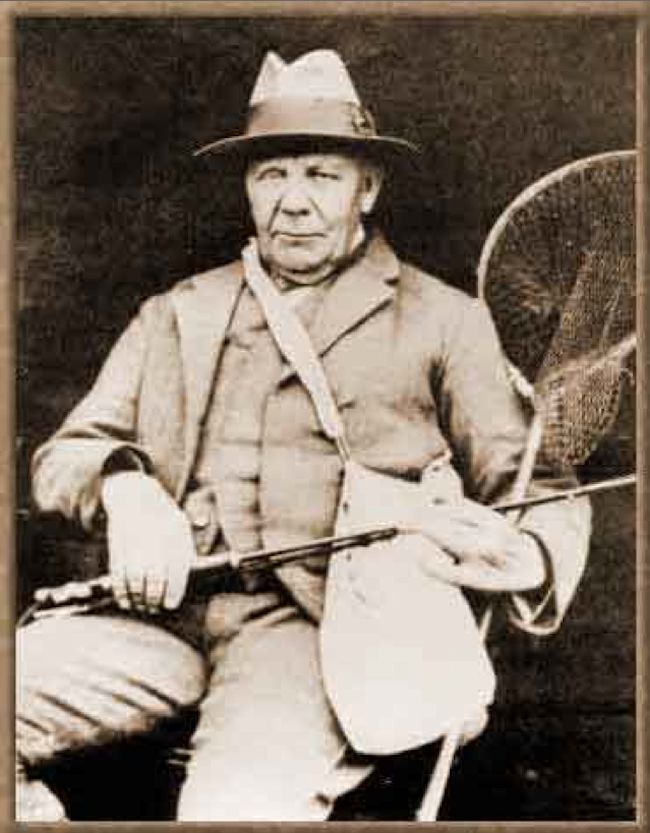 When he was just aged three he was sent to stay with his grandparents who lived in Aberdeen on the East coast of Scotland whilst his father and mother went on a new posting to India. His life changed when he was packed off to the other end of the Kingdom to start School. He was sent to the highly regarded Winchester College boarding school. The School's ground included four and half miles of the now famous River Itchen that flows from the Hampshire South Downs Chalk Hills. This is where he learnt to fly fish and develop his keen interest in the sport.
He became a lawyer and moved to London. He reignited his love for fly fishing when he accepted an invitation to fish the River Itchen as a guest of one of his clients. He continued to fish the river every year until 1938. He turned his interest towards entomology and his observation lead him to the conclusion that the local chalk stream trout's diet consisted mainly of nymphs even during hatches. Sometimes their stomachs were so full from taking rising nymphs that some barely took hatched flies on the surface. This was revolutionary at the time as the common belief was the reverse hence the preoccupation with surface dry fly fishing. He started to experiment with different subsurface nymph imitations.
Chalkstream Fly Fishing
This year I fished the River Arle in Hampshire and the River Barle in Exmoor National Park in North Devon, England. The only similarities is in their name. The first is a gentle crystal clear slow moving chalkstream and the second a rain fed boulder strewn river, tumbling for the most part through deep, wooded valleys. So how do you fly fish these two very different rivers?
The Chalkstream River Arle flows over a series of sills after bubbling out of the ground from the natural spring where the porous chalk meets impervious clay. It is normally only 2-3 ft deep for its whole length. It is necessary to stalk a trout, whether under dappled shade of trees or in the open where the river makes its way through farmers' fields. If you can see the trout they can see you. They get spooked so easily.
You often have to approach the river using every patch of cover as possible. You sometimes have to crouch uncomfortably low to place a dry fly or nymph right over the fish's nose. In this insect-rich chalk water, no trout is going to move far to chase your offering. This is where acurate casting pays off. A one pounder is a good fish.
Iron blue duns are my most successful dry flies. Gold Ribbed Hares Ear and pheasant tail nymphs I find are the most productive nymphs. There is a good stock of Grayling as well as young trout. If you wear bright clothing, make lots of noise, stand close to the river edge and continually move around you will have a very poor days fishing.
By contrast the moorland River Barle is a different sort of challenge. The upland scenery and many moods of the river can be overpowering at times, especially after a rainstorm on the moors has caused the river to become a raging muddy torrent.
In the upper reaches, in high fairly open moorland, the trout are wild and their weights measured in ounces. These small fish can be canny and full of fight. As the river descends off the moor it is forced into steep wooded valleys. The many granite boulders form natural pools ideal for finding resting brown trout or if you are lucky a salmon or sea trout.
As the current can be quite strong the fish will actively find slack water behind boulders, river bank projections and large tree trunks. They like to conserve energy and wait for their food to swim past them. Here you can cast up stream and let your flies drift downstream past these fish who are waiting to ambush your offerings.
The broken turbulent water surface makes it difficult for the fish to see you fishing from the river bank. You do not have to be so wary of being spotted. Takes tend to be lightning fast because the fish do not want their meal to float away in the current.
I live near the chalkstream Arle. It is good to travel and fish other types of rivers to test your skills and experience different types of fishing conditions. Plan your next fishing trip to somewhere that will stretch your abilities to the limit. The experience will only make your fly fishing skill set better as a result.
If you fish large rivers or lakes go find some fun fish filled small streams or a small mountain lake. If you normally just fish nymphs and wet flies force yourself to fish dry flies, terrestrials or streamers.
Facebook Reader's Comment
I caught a few brown trout beauties fishing in the Czech Republic. The large grayling took beaded PTN nymphs with orange thorax fishing Czech style. It was awesome - very difficult wading and awkward access in the best places but we had a terrific time. Vara Carlson, Lancashire

Fly Fishing books