Salmon Egg Sucking Black Leech Single Hook Fly
This large single hook egg sucking black leech flyfishing pattern is an imitation of the big black leeches that eat Pacific salmon eggs. In turn they are eaten by Rainbow Trout and Steelhead.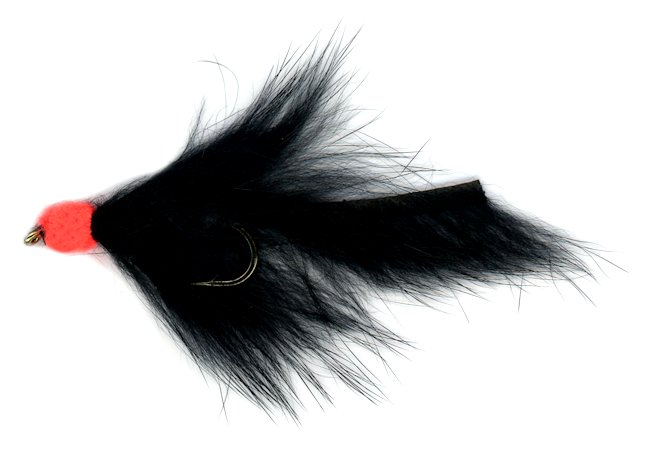 TROUT AND STEELHEAD SINGLE HOOK FLY PATTERNS. Hook size 2 6 - $US each
This large dark pattern suggests the big black leeches that feed on the eggs of the Pacific salmon. The slightly weighted head and the pulsating body and tail of dyed black rabbit fur give this pattern a superb action that the fish find very attractive. They attack it with gusto. The fur, when wet becomes one long silky tail that moves through the water like a slippery leech. It is a good Fall (Autumn) pattern, especially when the water has cooled and wild salmon are "on their redds". Fish it near the bottom on a dead drift or on a wet fly swing
CUSTOMER'S COMMENT
The Large Kamchatka Rainbows will eat these flies up. Their teeth means that you can only catch a couple of fish before changing flies. Larry Bryant Alaskan Guide and outfitter Anchorage, Alaska .
CUSTOMER'S COMMENT
I have also seen a stonefly drifting in the current with a salmon egg in its mouth, a steelhead slid in behind, took his time and ate the stonefly, egg and all. - Ken Herriot