The Drifting Salmon Carcass Single Hook Fly
The drifting carcass is another classic steelhead pattern. When the migratory salmon have spawn for the final time they die. There bodies decompose and break up. bits of salmon flesh drift down river and is eaten by predatory steelheads and rainbow trout.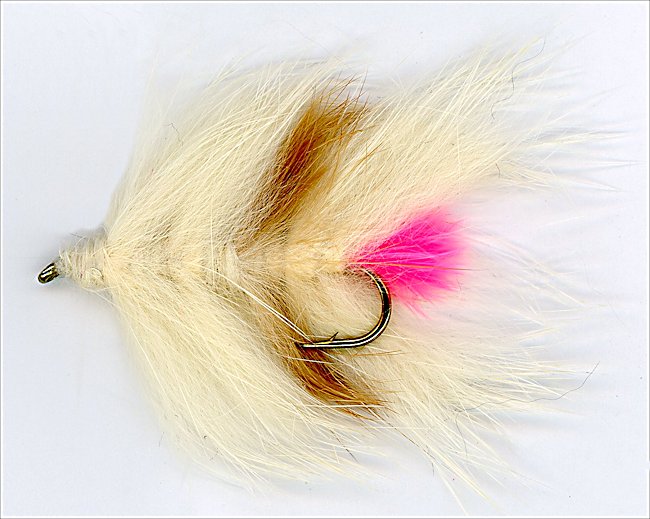 TROUT AND STEELHEAD SINGLE HOOK FLY PATTERNS. Hook size 4 - $US each
The rotting carcasses provide high calorie nutrition for insects, bears, birds, plants as well as other fish. Bleached salmon flesh is quite common as oxidation of the tissue turns the pinky orange flesh to a milky white. Just let this fly drift past the nose of a steelhead and watch its reaction.
Coastal cutthroat trout are nomadic, freely entering salt and fresh water, migrating with their food source. In the fall and winter months they can be found in the lower sections of rivers feeding on salmon eggs, and then salmon flesh and alevin that are flushed from the redds. So, during winter, egg patterns, rabbit strip "flesh" patterns and then Alvin fly patterns all work well.