The Thunder & Lightning Double Hook Salmon Fly
The Thunder and Lightning double hook salmon fly has produced some fine late season salmon. They seem to react to the orange and black combination.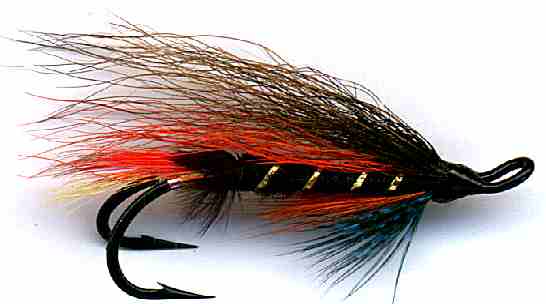 SALMON DOUBLE HOOK FLY PATTERNS. Hook size 4 6 8 10 - $US each
In Autumn Fall the salmon angler is fishing during a period when they can reasonably expect to be faced with cooler, wetter conditions. With the air beginning to cool due to longer nights, water temperatures also fall. A major factor in success on any fishing trip is to be lucky enough to get on the water in the right conditions. If your trip happens to coincide with a drought, when the river is very low and there is sunshine throughout the day, it matters little whether the pools are full of salmon or there are only a few. Fishing will be difficult.
Most late season trips will hopefully benefit from the cooler weather and higher water levels from the increase in rainfall. The salmon will stick to the deeper sections of the pool or river. The colder water makes them slower to react. They will not expend energy to take food near the surface. They will be looking at items passing them at eye level. You therefore need to get your flies down at their level. Heavy flies are needed like the Thunder and Lightning double hook salmon fly or a copper tube fly on a sinking line. You want to try and drift the fly in front of the salmon's nose to get a reaction.
I find a fly with a touch of orange at this time of the year works best. That is why I prefer the Thunder and Lightning. Most rivers during this period of the year have fish stocks widely distributed throughout their entire length and that of their main tributaries. Some of these have already reached their destination and are residing in holding pools close to where they spawn, whilst others are still quietly ascending the water system, having not so far reached their ultimate destination.


Salmon fishing books